Victor Gaston Set To Retire After 40 Years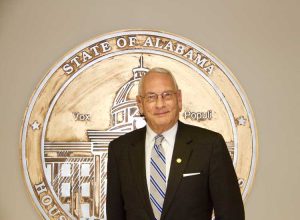 Victor Gaston, who has represented Alabama District 100 since 1982, making him one of the longest-serving members in the Alabama House of Representatives, is retiring after 40 years of government service. His current term ends Nov. 6, 2022, and he will not seek re-election.
Before his time in office, Gaston worked as a teacher and administrator for Mobile County Public Schools. He was a timber farmer and served in the U.S. military as a member of the Marine Corps Reserves and the Alabama National Guard.
He earned a bachelor's degree from the University of Southern Mississippi; a master's degree from the University of South Alabama; and a doctorate in education from Auburn University.
Gaston currently serves on the Rules, Ways and Means, General Fund, Transportation, Utilities and Infrastructure, and Mobile County Legislative Committees. He chairs two committees, the House Legislative Council and the Permanent Oil and Gas Study Committee, and is the vice chair of the Joint Legislative Council. Gaston is a former member of the U.S. Energy Council and speaker pro tempore.
He sits on the advisory council for the Assistance League of Mobile, the American Legislative Exchange Council (ALEC), the State Building Commission
and the Southwest Alabama division of the National Mental Health Association. He is a member of Phi Delta Kappa and a former member of the White House
Commission on Presidential Scholars.
According to the state's website, Gaston has received numerous awards and honors for his time in service, including:
Alabama Republican Party Legislative Honors, Humanitarian of the Year for service to those with physical and mental disabilities;
Award for outstanding service and contributions from the Mobile deaf community;
Alabama Library Association Award for exceptional service;
Conservation of Alabama Soil and Water Advisory Committee Award;
Lifetime Achievement Award from the Mobile County Republican Executive Committee;
Distinguished Service Award from the University of South Alabama;
YMCA's Youth Advocacy Award;
Electric Cities of Alabama 2013 Legislative Award;
Alabama Association of Regional Councils' Outstanding Elected Official Award; and the
Israel Leadership award 2016
Click here to read the Business View – November 2022
Additional information is on the Mobile Area Chamber of Commerce's website at mobilechamber.com, on Facebook at @MobileChamber, LinkedIn at Mobile Chamber, Instagram at @themobilechamber and Twitter at @MobileChamber.
About the Mobile Chamber
The Mobile Chamber is a private business organization with more than 1,700 members and the economic developer for the City of Mobile and Mobile County. The Mobile Chamber's focus is to provide members with networking, marketing and professional development opportunities, expand jobs in the area, develop the local workforce, advocate legislative priorities and offer resources to help small businesses grow. Additional information is on the Chamber's website, Facebook, Instagram, LinkedIn, Twitter and YouTube.