Master Boat Builders Delivers Hybrid Tug
Business View – August 2022/ Business News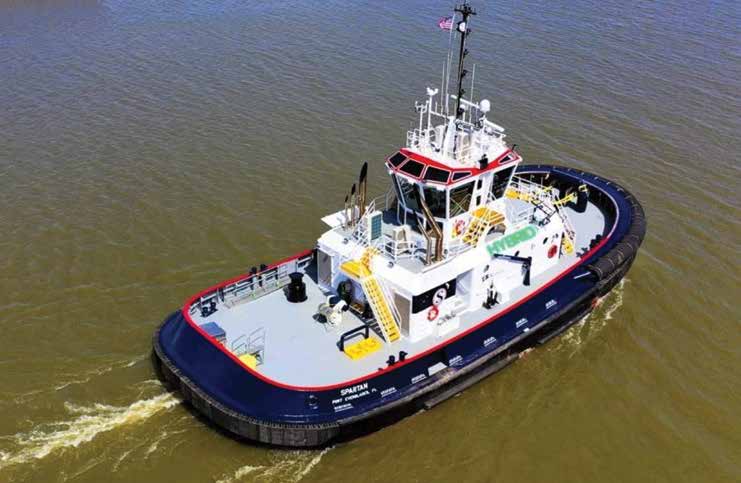 Master Boat Builders Inc. announced it delivered Spartan, an electric-hybrid tugboat, to Seabulk Inc., a British Columbia company.
"The Spartan is the latest addition to our fleet and constitutes the first of two hybrid, diesel-electric vessels commissioned from Master Boat Builders," said Daniel Thorogood, chief executive officer of Seabulk. "She is representative of their advanced workmanship and ability to deliver modern, cutting edge marine technology. We look forward to continuing to deliver service excellence and offering our customers a more sustainable towing solution."
"As the maritime industry continues to evolve and modernize its fleet, Master Boat Builders is proud to deliver this hybrid tugboat, which will serve as the most efficient technologically advanced tug operating in the U.S.," said Garrett Rice, president of Master Boat Builders. "Spartan is the latest in a series of innovative and alternative-powered work boats that we are constructing and that we will continue to deliver as demand in this market expands."
Spartan was designed by Robert Allan Naval Architects & Marine Engineers. The tug is built to meet United States Coast Guard regulations and is classed through the American Bureau of Shipping, including escort notation. The vessel has an overall length of 98 feet, beam of 43 feet, and bollard pull of 90 tons. The integrated hybrid propulsion system was provided by Thompson Tractor and includes two EPA Tier 4 certified Caterpillar 3512E main engines, each producing 2,550 horsepower, and two Berg MTA 628 azimuth thrusters, three Caterpillar generators and two ABB propulsion motors and associated variable frequency drives.
Berg's hybrid electric propulsion system includes high levels of redundancy for safety as well as the ability to switch seamlessly between operating modes with the push of a button. A vessel can run on main engines only, gensets (engine-generator set) only, or a combination of the two, optimizing energy use across the entire operating profile.
"This has been a landmark delivery for Master Boat Builders in next-generation tug construction, and a testament to the value of teamwork," said Rice. "The approach was collaborative throughout the design, engineering, and building phases and we look forward to completing work on the second of these innovative Seabulk tugboats later this year."
Click here to read the Business View – August 2022
Additional information is on the Mobile Area Chamber of Commerce's website at mobilechamber.com, on Facebook at @MobileChamber, Instagram at @mobile-area-chamber and Twitter at @MobileChamber.
About the Mobile Chamber
The Mobile Chamber is a private business organization with more than 1,700 members and the economic developer for the City of Mobile and Mobile County. The Mobile Chamber's focus is to provide members with networking, marketing and professional development opportunities, expand jobs in the area, develop the local workforce, advocate legislative priorities and offer resources to help small businesses grow. Additional information is on the Chamber's website, Facebook, Instagram, LinkedIn, Twitter and YouTube.