Austal Awarded $230.5M U.S. Navy Contract
Business View – August 2022/ Business News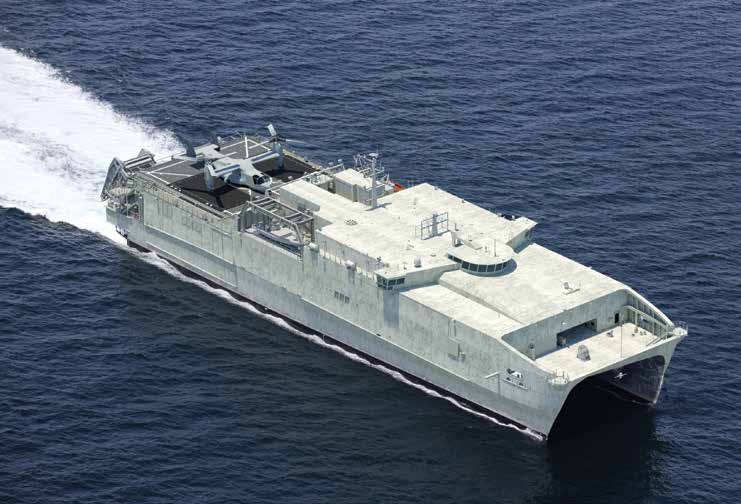 Austal USA announced it was awarded a $230.5 million contract for the detail design and construction of EPF 16, the Navy's newest Expeditionary Fast Transport (EPF) ship.
Having already successfully delivered 12 EPFs on schedule and on budget, Austal has three additional EPFs currently under construction.
EPFs have operational capabilities to conduct a variety of missions, including humanitarian assistance, disaster relief, maritime security, surveillance, command and control and counter-narcotics missions.
"Like the previously delivered EPFs, EPF 16 will benefit from the serial production of this program, resulting not only in a world-class ship but also providing assurance to the U.S. Navy that capability will be delivered on budget and on schedule," said Austal USA President Rusty Murdaugh. "Our reputation for delivering quality is a direct reflection of the commitment and dedication of our talented shipbuilders and suppliers."
EPF 16 will be the third ship constructed in the Flight II configuration. Flight II ships will enhance the original capabilities of the Spearhead class through incorporation of reconfigurable spaces for operating rooms and postsurgical recovery efforts. Combined with the ship's flight deck, which is capable of landing V-22 aircraft, Flight II ships provide versatility.
Construction efforts on EPF 16 are expected to commence later this year, with delivery projected for 2025. Austal USA is currently under contract to build additional EPFs, the Independence-variant Littoral Combat Ship (LCS) and the Navajo-class Towing, Salvage and Rescue ships (T-ATS) and is supporting Navy unmanned vessel programs leveraging its advanced machinery control system.
Click here to read the Business View – August 2022
Additional information is on the Mobile Area Chamber of Commerce's website at mobilechamber.com, on Facebook at @MobileChamber, Instagram at @mobile-area-chamber and Twitter at @MobileChamber.
About the Mobile Chamber
The Mobile Chamber is a private business organization with more than 1,700 members and the economic developer for the City of Mobile and Mobile County. The Mobile Chamber's focus is to provide members with networking, marketing and professional development opportunities, expand jobs in the area, develop the local workforce, advocate legislative priorities and offer resources to help small businesses grow. Additional information is on the Chamber's website, Facebook, Instagram, LinkedIn, Twitter and YouTube.