Hiring Military Veterans
The Business View – November 2018 / Small Business of the Month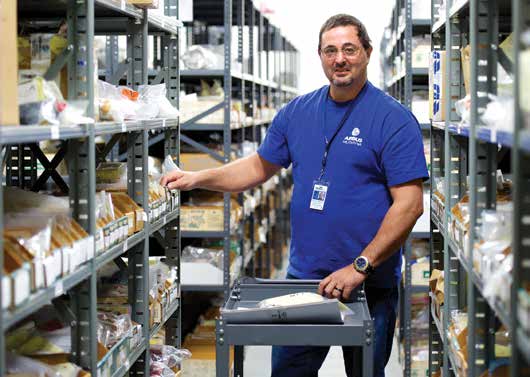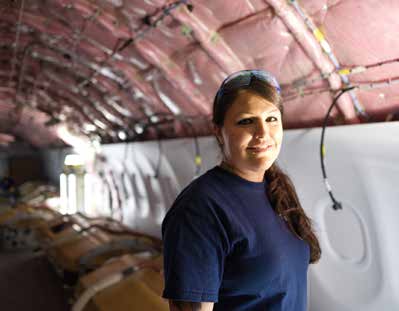 (Left) Joe Franzone, a U.S. Air Force veteran at Airbus Defense & Space, takes great pride and responsibility in supporting the Airbus Customers Worldwide. (Right) Susan Drews, Cabin Furnishings Mechanic-Airbus U.S. Manufacturing Facility and U.S. Navy veteran.
According to the U.S. Census Bureau, there are over 20 million veterans living in the U.S. In Alabama, the veteran population is over 350,000, making up about 9 percent of Alabama's overall population.
The U.S. Census Bureau reported in 2016 the unemployment rate for veterans in Alabama was 5.6 percent. This is a startling number when you factor in Alabama's overall unemployment rate of 4.1 percent.
Fortunately, there are businesses in the Mobile area committed to hiring veterans. Airbus has made a conscious effort to employ our military veterans.
There are three Airbus facilities in Mobile. The Airbus A320 Production Facility has the highest percentage of veteran employees at 33 percent, followed by Airbus Military-Mobile at 28 percent and Airbus Engineering-Mobile at 24 percent.
Veterans are recruited via job fairs on military bases, military recruiters and referrals. Employee assistance programs are set in place at Airbus to ensure support for all employees, veteran or otherwise.
"It's absolutely important for us to support them [veterans] and quite frankly they make great employees," said Kristi Tucker, director of communications at Airbus. "They bring a very high skill level to the table. They are just an ideal candidate for us, and when they bring that high skill level, we teach them the Airbus way, and they just become great team members and great producers for us."
Veterans hired on at Airbus have the ability to pursue technical roles as well as leadership roles.
"When you look at the roundness of a candidate, not only have they done a technical job and have that information, but they are also able to manage, coach and lead others. What an ideal candidate," Stephanie Burt, head of human resources for Airbus A320 Production Facility, said. Airbus makes an effort to celebrate its veterans with activities and events on Veterans Day and the days leading up to it. It's obvious veterans are an integral part of Airbus' workforce.
"We're so pleased to be in the Mobile community and we're so pleased to have these military veterans. Being here, we've allowed many of our veterans to either come home or stay home and use the skills they've learned in the military," said Tucker.
Uniti Fiber was recently recognized by the Office of the Secretary of Defense as a Patriotic Employer. The company was commended for contributing to national security and protecting liberty and freedom by supporting employee participation in America's National Guard and Reserve Force. The company's efforts include employing, promoting and honoring veterans and reservists, as well as hosting events and forums specific to this group of employees.
There are resources available to both employers and military veterans who are interested in employment opportunities. The U.S. Chamber of Commerce Foundation launched the Hiring Our Heroes program – vetemployerroadmap.org – to host job fairs and offer easily accessible online career tools with the goal of helping veterans and their spouses find meaningful employment. To date, more than 31,000 veterans and their spouses have gained employment through the various events presented by the Hiring Our Heroes program.
Employers can utilize the U.S. Chamber's online "Employer Roadmap" to better understand hiring and recruiting practices of veterans and military spouses.
Click here to read The Business View – November 2018
Additional information is on the Mobile Area Chamber of Commerce's website at www.mobilechamber.com, on Facebook at @MobileChamber and Twitter at @MobileChamber.
About the Mobile Chamber
The Mobile Chamber is a private business organization with more than 1,700 members and the economic developer for the City of Mobile and Mobile County. The Mobile Chamber's focus is to provide members with networking, marketing and professional development opportunities, expand jobs in the area, develop the local workforce, advocate legislative priorities and offer resources to help small businesses grow. Additional information is on the Chamber's website, Facebook, Instagram, LinkedIn, Twitter and YouTube.