Small Business of the Month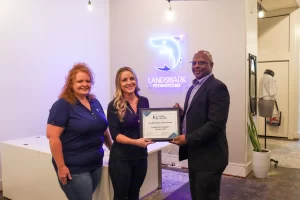 Congratulations to the Mobile Chamber October Small Business of the Month: Landshark Promotions!
Landshark Promotions is a woman-owned business with more than 18 years of experience in the promotional products industry.
They are dedicated to the promotional needs of their clients and strive for 100% customer satisfaction with on-time delivery.
They specialize in a variety of products, including:
Apparel
Drinkware
Pens
Bags
Tools
In 2011, owner and founder Chrissy Robinson created Landshark Promotions in her living room. She spent the first two years of the company's life working behind her couch. She started her business with the goal of providing a workplace where women with families could thrive. "I wanted to have a workspace where ladies have the freedom to go to their kids' events or doctor appointments without it feeling like a corporate environment," said Robinson.
With eight years of experience working for a promotional product supplier, Robinson has experience on the supplier side of the business as well as the distributor side.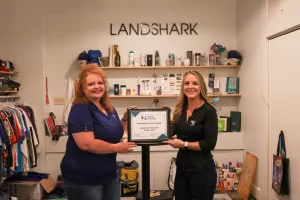 After a couple years of working out of a storefront in west Mobile, Robinson moved the company to the heart of downtown Mobile.
Landshark Promotions provides high-quality services to a wide range of business, both large and small. "Whether you're a small business just needing something that's under $100 or you're in need of a ton of t-shirts, we can provide that and everything in between."
Landshark Promotions is a full-service advertising specialties company offering a wide range of promotional items to promote your company.
They can assist their clients with their marketing objectives through:
Corporate recognition programs
Premiums and Incentives Sales
Trade Show Programs
Safety Programs
Service Awards
Employee Recognition
Product Introductions
Business Gifts
Sport Tournaments
Company Outings
Thank you programs
E-Commerce Services: online stores and fulfillment services
Robinson said, "I absolutely love what I do! We're in the 'fun' business. It makes me so happy whenever someone gets an item with their name on it and they're visibly excited."
To learn more about Landshark Promotions, visit landsharkpromos.com
About the Mobile Chamber
The Mobile Chamber is a private business organization with more than 1,700 members and the economic developer for the City of Mobile and Mobile County. The Mobile Chamber's focus is to provide members with networking, marketing and professional development opportunities, expand jobs in the area, develop the local workforce, advocate legislative priorities and offer resources to help small businesses grow. Additional information is on the Chamber's website, Facebook, Instagram, LinkedIn, Twitter and YouTube.