Paula's Hair Unlimited, LLC: Where Beauty Meets Compassion
2023 Eagle Awards Hall of Fame
Paula Jones is the heart and soul behind Paula's Hair Unlimited, LLC and is passionate about pampering each client.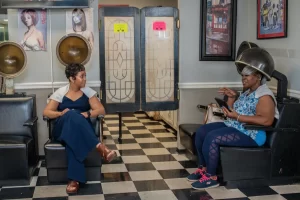 Founded in 1987, Paula's Hair Unlimited has been a proud member of the Mobile Chamber for 15 years.
This salon is a retreat for self-care. From perms to hair color, cuts, and weaves, they create not just hairstyles but pride and self-esteem. She also makes wigs and hair units for clients and children who suffer from alopecia and forms of cancer.
She caters to all nationalities, offering a relaxed and welcoming atmosphere.
Her impact extends far beyond the salon. Paula's dedication to giving back is remarkable, providing free haircuts to those in need, mentoring young ladies, and supporting job seekers with clothing donations.
Paula's Hair Unlimited, LLC, is where beauty meets compassion.
Congratulations to Paula's Hair Unlimited, LLC, one of the 2023 initiates to the Eagle Award Hall of Fame.
About the Mobile Chamber
The Mobile Chamber is a private business organization with more than 1,700 members and the economic developer for the City of Mobile and Mobile County. The Mobile Chamber's focus is to provide members with networking, marketing and professional development opportunities, expand jobs in the area, develop the local workforce, advocate legislative priorities and offer resources to help small businesses grow. Additional information is on the Chamber's website, Facebook, Instagram, LinkedIn, Twitter and YouTube.