Chris and Carla's Enterprises, Inc.: Heavenly Ribs and Heartfelt Service
2023 Eagle Award Winner: Chris & Carla's Heavenly Ribs
Chris and Carla's Enterprises, Inc. has been a shining star in our community for more than two decades, significantly impacting both the business world and our society.
Chris & Carla's Heavenly Ribs is synonymous with delicious food.
Known for their heavenly ribs, they've also mastered the art of southern fried chicken, lasagna, and low country boils, offering a wide array of culinary delights.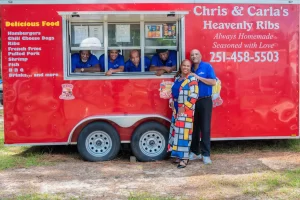 Owners Chris Dupriest and Karla Dupriest-Miller have also purchased a food truck to travel and share their mouthwatering creations throughout the Gulf Coast.
In addition to catering, they offer event and wedding planning and bartending services.
In times of crisis, they step up with disaster relief catering, showing their unwavering commitment to the community.
You can also find them participating in food giveaways, volunteering at schools, and teaching cooking and nutrition classes to underserved children.
The bottom line: Their commitment to making a difference is commendable.
Congratulations to Chris and Carla's Enterprises Inc. on being named a 2023 Eagle Award Winner.
About the Mobile Chamber
The Mobile Chamber is a private business organization with more than 1,700 members and the economic developer for the City of Mobile and Mobile County. The Mobile Chamber's focus is to provide members with networking, marketing and professional development opportunities, expand jobs in the area, develop the local workforce, advocate legislative priorities and offer resources to help small businesses grow. Additional information is on the Chamber's website, Facebook, Instagram, LinkedIn, Twitter and YouTube.