Bishop State Community College has officially opened its innovative Gene Haas Center for Advance Manufacturing Technology.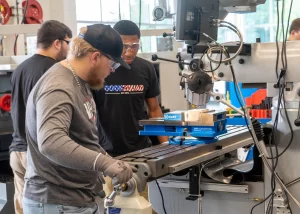 Why it matters: This opening marks a significant milestone in advanced STEM education and manufacturing industry training for the Mobile area.
This robust 80,000-square-foot center, brimming with world-class technology, is set to be a crucial catalyst for student preparation in the ever-evolving manufacturing industry.
What they're saying: "This grand opening is a significant moment for Bishop State Community College and the broader community," President Olivier Charles said. "The Center for Advanced Manufacturing Technology exemplifies our commitment to delivering excellence in STEM education and preparing our students for the workforce of the future," he said. "With cutting-edge equipment, exceptional training facilities, and a focus on innovation, this center will be a hub of knowledge and hands-on experience for students aspiring to excel in advanced manufacturing jobs and various STEM fields."
The new center, with its top-tier equipment, superior training facilities, and innovative approach, is poised to be an epicenter of knowledge and practical experience for ambitious students keen to excel in advanced manufacturing and various STEM disciplines.
The construction of this $30 million facility, nestled in the heart of Bishop State's main campus, commenced in July 2020. The Center for Advanced Manufacturing Technology is rich with exclusive features: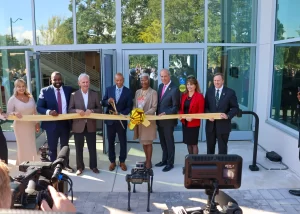 A unique indoor process technology training center with a fully functional pilot plant, housing three cutting-edge Polaris Hands-On-Training Units, all operated by an Emerson Delta V Distributed Control System (DCS).
A plethora of programs, including but not limited to Computer-Aided Drafting & Design Technology (CADD), Additive Manufacturing (3D Printing), and Electronic Engineering Technology (EET).
It is the proud home of the Federation of Advanced Manufacturing Education's (FAME) 'FAME on the Coast' chapter, emphasizing work-based learning and hands-on experience.
As the only machine tool training center in the Mobile metropolitan area, the Center for Advanced Manufacturing Technology is an essential asset to more than 60 companies.
The bottom line: The grand opening celebrated Bishop State's dedication to nurturing innovation, knowledge, and practical training in growing industries.
In the spirit of community involvement, Bishop State hosted an open house with self-guided facility tours.
About the Mobile Chamber
The Mobile Chamber is a private business organization with more than 1,700 members and the economic developer for the City of Mobile and Mobile County. The Mobile Chamber's focus is to provide members with networking, marketing and professional development opportunities, expand jobs in the area, develop the local workforce, advocate legislative priorities and offer resources to help small businesses grow. Additional information is on the Chamber's website, Facebook, Instagram, LinkedIn, Twitter and YouTube.