Mobile County Schools' Innovative Programs: Nurturing Tomorrow's Workforce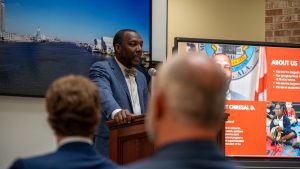 Chresal Threadgill, the Superintendent of the Mobile County Public School System (MCPSS), recently sat down with the Mobile Chamber Board of Advisor members to discuss what Mobile County schools are doing to prepare students to enter the workforce.
Did you know?
A student in the MCPSS can apply to attend any high school in the county that they choose? Each student is not restricted to the area that they live in. This allows each student to pursue a more comprehensive education in their area of choice.
In the spring, 8th grade students are encouraged to apply to the Signature Academy that they are interested in attending (if the academy is not at their district school).  The Academy Specialist at each school visit all the magnet middle schools and the middle schools in their feeder pattern to inform the 8th grade students of the academies that are available.
The Academy Specialists will hold an Academy Showcase on January 9, 2024, at the Mitchell Center that invites 7th and 8th grade students and their parents/guardians to come and see all the schools at one time.
The Academy Application opens to 8th graders (and Barton 9th graders) on January 9 and closes on February 4.
High Schools have a "Signature Academy" and that is the academy that is open for application.  These are typically academies that are unique to their school. Each high school also has other career academies, but those aren't open to transfers because typically it is career pathways that are available at most schools.
For example, if someone lives in MGM district and is interested in Business, they could not apply to go to the Baker Business Academy because MGM also has a Business Academy.
Signature Academies
High schools offer designated Signature Academies, which are specialized programs or departments focused on specific courses of study. Each Signature Academy is tailored to a particular field or subject area, such as engineering, healthcare, arts, or business. These academies are designed to provide students with an in-depth and specialized education in their chosen area of interest.
Career Academy Pathways
Every MCPSS high school features a variety of Career Academies that allow 9th grade students to choose a career pathway of interest that they would like to begin studying. These pathways align with the Signature Academies and offer a structured curriculum that guides students toward their chosen career or academic goals. Each pathway is a set of courses and experiences designed to prepare students for success in their chosen field or area of study.
The Bottom Line: The Signature Academies provide specialized educational opportunities within high schools, and the Pathways program allows students to choose a focused pathway of study that aligns with their interests and career aspirations, starting in the 8th grade. This combination helps students receive a tailored and comprehensive education in their chosen field of study.
Pathways Broken Down by Grade Level
8th grade
Participate in career exploration activities.
Attend the Signature Academy Showcase. January 9, 2024 at the Mitchell Center 4:30-6:30pm
Complete the Signature Academy application to attend the school that has the career academy of their choice. Opens January 9, 2024 and closes February 4, 2024
9th grade
Complete a career preparedness course.
Complete interest inventory (Kuder)
Participate in industry tours and field trips.
Complete academy pathway selection.
10th grade
Take the first course in their career pathway.
Participate in industry tours in chosen career pathway.
11th grade
Take a second course in their career pathway.
Participate in job shadowing in career area.
Apply for a summer internship.
Complete resume building and mock interview process.
12th grade
Take third course in their career pathway.
Complete an internship or work-based learning opportunity.
Participate in job shadowing and industry field trips.
By the numbers:
According to MCPSS 2022-2023 Data:
14,792 middle and high school students are enrolled in a career and technical education course.
122 students completed a summer internship.
125 seniors participated in job shadowing with 65 different companies.
3,002 juniors completed mock interviews.
715 juniors and seniors worked in part-time jobs through the Cooperative Education program.
2,499 graduates of the class of 2023 earned at least one career credential, meaning they are fully trained for an entry-level job in the local workforce.
3% of the class of 2023 were awarded a scholarship to further their education.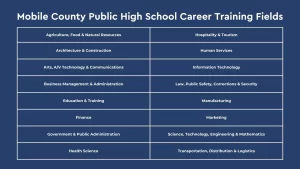 Signature Academies
The Signature Academies in MCPSS high schools are small learning communities with a high-wage, high-demand focus for 10th through 12th grade students. These academies match up with the hottest jobs in the market, and they're backed by local businesses and support of the Mobile Chamber.
Baker High School – Academy of Advanced Careers
Blount High School – Academy of Pre-Med, Medical and Health Careers
Bryant High School – Academy of Coastal Studies
Citronelle High School – Academy of Manufacturing
Davidson High School – Academy of Engineering Pathways Integrated Curriculum (EPIC)
LeFlore High School – Academy of Law, Arts & Health Services
Montgomery High School – Academy of Biomedical Sciences
Murphy High School – University Center Academy
Rain High School – Academy of Aviation and Aerospace
Theodore High School – Academy of Industry and Engineering
Vigor High School – Academy of Advanced Information Technology
Williamson High School – Academy of Maritime, Engineering & Entrepreneurship
Dig Deeper: To learn more about each Signature Academy, click here.
Why it matters: This information is crucial as it highlights the proactive steps MCPSS is taking to ensure students are well-prepared for their future careers. By offering a wide range of Signature Academies and career pathways, they allow students to explore various industries from an early age, enhancing their readiness for the workforce.
Career Tech Centers
In addition to the Signature Academies, Mobile County Public Schools also offer three stand-alone career tech centers.  If a student's traditional school does not have your specialty, you can be bussed to one of these locations to receive training in the following areas:
Bryant Career Center
Automotive Services
Aviation Manufacturing
Carpentry
Cosmetology
Health Science
HVAC
Industrial Agriculture
Industrial Maintenance
Mechanical
Plant Science
Plumbing
Welding
Citronelle Career Tech Center
Army JROTC
Automotive Services
Business Administrative
General Agriculture
Health Science
Marketing
Modern Manufacturing
Project Lead the Way Engineering
Hospitality & Tourism
Welding
Faulkner Career Tech Center
Advertising & Design
Automotive Services
Aviation Manufacturing
Carpentry
Collision Repair
Cosmetology
Early Childhood Education
Electrical
Health Science
HVAC
Masonry
Networking Systems & Computer Services
Welding
Dig Deeper: Click here to learn more about what the Mobile Chamber is doing to bridge the gap between educators and employers.
The Bottom Line: The Mobile County Public School System's commitment to preparing students for the workforce is evident through its innovative approach to education.
By offering a diverse range of Signature Academies and career pathways, MCPSS empowers students to explore their interests and passions early, ensuring they receive a comprehensive and specialized education.
The Pathways Program, collaboration with local businesses, and support from the Mobile Chamber create a school-to-work pipeline that equips students with the skills and knowledge they need to succeed in their chosen careers. This proactive approach ensures that MCPSS graduates are well-prepared to enter the workforce, contributing to the growth and prosperity of the Mobile County community.
Get involved: MCPSS has plenty of opportunities for companies to be involved in preparing our future workforce. To find out how you can connect to these programs, contact the MCPSS Career-Technical Education Department at: 251-221-4821.
About the Mobile Chamber
The Mobile Chamber is a private business organization with more than 1,700 members and the economic developer for the City of Mobile and Mobile County. The Mobile Chamber's focus is to provide members with networking, marketing and professional development opportunities, expand jobs in the area, develop the local workforce, advocate legislative priorities and offer resources to help small businesses grow. Additional information is on the Chamber's website, Facebook, Instagram, LinkedIn, Twitter and YouTube.