From the Navy to Shipbuilding: Austal's Robert Bonham Jr. on Finding Meaning in Mobile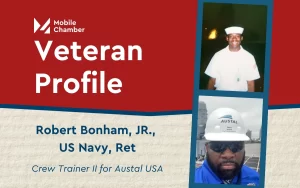 Meet Robert Bonham Jr., a veteran who dedicated twenty years of his life to serving in the US Navy.
Throughout his journey, Robert held the title of E-6 as a Nuclear Trained Electricians Mate. He faced five deployments, each lasting more than six months, showcasing his commitment to his country. But Robert's story doesn't stop there. In addition to his military service, he cherishes his role as a loving husband and father to four children, ranging from a 21-year-old son to an 11-month-old baby boy.
Delve into Robert's unique experiences and learn why he wanted his family to settle down in Mobile, Alabama.
*Answers have been edited for clarity
Describe your current job and how your military experience translates into this role.
"As a Crew Trainer II at Austal, I am responsible for designing, developing and delivering training on the electrical and propulsion systems of the different vessels Austal builds.
This includes:
creating training materials
conducting training sessions
evaluating trainee progress
modifying training programs as necessary
Additionally, a Crew Trainer may be responsible for identifying training needs and developing strategies to address these needs.
My military experience as a Lead Petty Officer translates into this role in several ways:
First, the military places a strong emphasis on training and development. As a Lead Petty Officer, I have had significant experience in designing and delivering training programs to sailors and other personnel. This experience is directly applicable to a Crew Trainer role.
Second, as a Lead Petty Officer, I have had to communicate effectively with a diverse range of individuals and be able to tailor my communication style to different audiences. This skill has been invaluable as a Crew Trainer, where I need to communicate complex concepts to trainees with varying levels of experience and expertise.
Finally, the military values attention to detail, safety and efficiency. These values are highly applicable to a Crew Trainer role at Austal USA. As a Crew Trainer, I need to ensure that training programs are designed and delivered with a high degree of accuracy and attention to detail, while also prioritizing safety and efficiency."
Describe the ways in which your company is a great organization for members of the military community to work for.
"Austal USA is a great organization for members of the military community to work for due to several reasons:
Military-Friendly Culture: Austal USA recognizes the unique skills, experiences, and work ethic that military members bring to the table. They have a culture that values and appreciates the contributions of veterans and active-duty military personnel. The organization understands the military lifestyle and provides support and understanding to employees who may have military obligations or commitments.
Transferable Skills: Austal USA's work in shipbuilding and defense aligns well with the skills and training that many military members possess. Whether it's technical expertise, project management, leadership or problem-solving skills, the organization recognizes and values the skills gained through military service. This makes it a natural transition for military members to apply their knowledge and experience in a meaningful way.
Career Opportunities: Austal USA offers a range of career opportunities that cater to different skill sets and career goals. From shipbuilding and design to engineering, operations, logistics and support functions, there are diverse roles available within the organization. Military members can find positions that align with their military occupational specialties (MOS) or leverage their transferable skills to pursue new career paths.
Training and Development: Austal USA invests in the training and development of its employees, ensuring they have the necessary skills to excel in their roles. This commitment to ongoing learning aligns well with the military's emphasis on continuous improvement and professional development. Military members joining Austal USA can expect opportunities for further education, skills enhancement, and career advancement.
Strong Support System: Austal USA recognizes the importance of a strong support system for military employees. They provide resources and assistance to help military members and their families navigate the challenges of transitioning from military to civilian life. This includes benefits, programs and initiatives aimed at supporting veterans, reservists and their families throughout their employment journey.
Meaningful Work: Working at Austal USA provides an opportunity to contribute to the defense and maritime industries, supporting national security and providing essential vessels for military and commercial purposes. Military members often seek meaningful work after their service and Austal USA's mission and impact can resonate strongly with individuals looking to continue serving their country in a different capacity.
Overall, Austal USA offers a supportive and inclusive environment that recognizes and values the skills and experiences of military members. With career opportunities, training programs, and a military-friendly culture, Austal USA is an excellent organization for members of the military community to work for."
Why did you choose to move to the Mobile, AL, area?
"I chose to move back to Mobile to be close to family and friends that I have missed during my 20-year career. The growing job market and low cost of living were attractive too."
Please describe how living in the Mobile, AL, area has been for you.
"In addition to bringing me back to family and lifelong friends, Mobile has several factors that make it an attractive place to live and work for veterans.
First, the city has a strong military presence. There are several military installations located in the area, including the Coast Guard Aviation Training Center, the US Army Reserve Center and the Battleship Memorial Park. This provides opportunities for veterans to maintain a connection to the military community and to continue to serve in a civilian capacity.
Second, Mobile has a low cost of living compared to other major cities in the United States, which can be particularly appealing to veterans who are transitioning to civilian life and may be starting a new career or business. Housing prices are relatively affordable, which can be an important factor for veterans who may have families or other financial obligations.
Third, Mobile has a thriving economy and a diverse range of industries, including healthcare, education, manufacturing and technology. This provides opportunities for veterans with a range of skills and experience to find meaningful employment in their chosen field.
Finally, Mobile has a strong sense of community and a welcoming culture, which can be particularly important for veterans who may be transitioning from the close-knit military community to civilian life. The city has a rich history and culture, with numerous museums, festivals and events throughout the year that showcase its heritage and diversity.
Overall, Mobile, AL offers veterans a range of opportunities and benefits, including a strong military presence, a low cost of living, a diverse range of industries and a welcoming community. These factors can make Mobile, AL an attractive place for veterans to live and work after separating from the military."
What advice would you give someone who is newly retired from the military?
"Take time off to decompress after separating from the military, and then begin your next journey reinvigorated and ready to go."
Thank you, Mr. Bonham for taking the time to sit down with the Chamber and tell your story.
View our previous Veteran Profile here.
About the Mobile Chamber
The Mobile Chamber is a private business organization with more than 1,700 members and the economic developer for the City of Mobile and Mobile County. The Mobile Chamber's focus is to provide members with networking, marketing and professional development opportunities, expand jobs in the area, develop the local workforce, advocate legislative priorities and offer resources to help small businesses grow. Additional information is on the Chamber's website, Facebook, Instagram, LinkedIn, Twitter and YouTube.