Building Brighter Futures: Ransom Ministries' Impact on Poverty Reduction and Career Development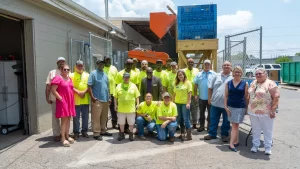 Ransom Ministries is a non-profit organization that is dedicated to transforming communities through various outreach programs and initiatives.
The team at Ransom Ministries makes a significant impact on individuals and local communities by providing practical assistance, support and hope to those in need.
Impact on Poverty Reduction
Improved Access to Basic Needs
Ransom Ministries helps individuals and families affected by poverty through providing basic needs like food, clothing and shelter. These various initiatives help alleviate the immediate effects of poverty and improve the overall well-being of those in need.
Increased Employment Opportunities
By offering job training and employment assistance, Ransom Ministries helps individuals secure stable employment and increase their income.

This improves their financial situation and provides them with a sense of dignity and self-worth.
Equipping Individuals with Marketable Skills
Ransom Ministries offers a job training program that equips individuals with marketable skills to improve their employment prospects.

Through partnerships with local businesses and organizations, participants receive hands-on training in various industries such as culinary arts, woodworking, landscaping and more.

The program focuses on technical skills and personal development, including resume building, interview preparation and workplace etiquette.
Empowering Individuals for Long-Term Success
The job training program aims to empower individuals for long-term success by providing them with the tools and resources they need to secure stable employment.

Ransom Ministries offers ongoing support and mentorship to program participants, helping them navigate challenges and overcome barriers to employment.

By equipping individuals with marketable skills and empowering them to become self-sufficient, Ransom Ministries is breaking the cycle of poverty and creating a pathway to a brighter future.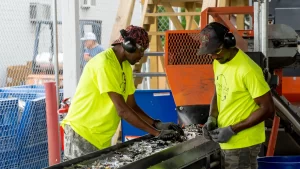 The Job Training Programs
Two job training programs that help those in need gain marketable career skills include Road to Work and Ransom Reprogram.
Road to Work is a partnership with the City of Mobile and Waterfront Rescue Mission. Individuals experiencing homelessness are given an entry-level job picking up trash throughout the city and then those individuals qualify to enter Ransom Ministries' Recycling and/or Reprogram initiatives.

Ransom Reprogram is a curriculum-based classroom training in which those going through the program undergo three learning phases.
Phase 1 is about self-realization, understanding why people make some of their choices, and working on core beliefs.
Phase 2 works on soft skills training such as:
Teamwork

Conflict resolution

What makes a good employee
Phase 3 spends time on:
Interviewing

Resumes

Vocational goals

Personal goals
What they're saying: Executive Director of Ransom Ministries Matt Armbruster said, "My hope is that local companies will see people coming out of incarceration, homelessness and addiction as an untapped resource of employees. We just need to give them the tools it takes to be a valuable employee.  I hope we are changing the stigma that those that have been incarcerated, homeless or addicted sometimes have.  I just notice most people want to do the right thing but sometimes have never had anyone show them how. We are here to walk with a person through that process and help them realize their potential and that they can do it. 100% of those we come in contact with are made in God's image. It is our job to help them realize and believe that."
How you can help Ransom Ministries' mission.
There are numerous ways to get involved, such as:
Become a coach (mentor)

Donate your old, unwanted electronics

Hold an electronics drive at your business

Become a Hammer Mill Sponsor

Follow Ransom Ministries on social media

Become a monthly donor

Provide lunch for the crew

Become a member of the board of directors

Pray for direction and provision

Hire Ransom Ministry graduates
For information on these opportunities and more visit ransomministries.com/volunteer
The bottom line: Ransom Ministries is significantly impacting communities by addressing immediate needs and empowering individuals for long-term success. By providing practical assistance, support and hope, Ransom Ministries transforms communities and creates a brighter future for those in need.
About the Mobile Chamber
The Mobile Chamber is a private business organization with more than 1,700 members and the economic developer for the City of Mobile and Mobile County. The Mobile Chamber's focus is to provide members with networking, marketing and professional development opportunities, expand jobs in the area, develop the local workforce, advocate legislative priorities and offer resources to help small businesses grow. Additional information is on the Chamber's website, Facebook, Instagram, LinkedIn, Twitter and YouTube.