World's Largest Shop-Built Cryogenic Tanks to be Built in Theodore, Alabama
THEODORE, Ala. – Chart Industries, Inc. (NYSE: GTLS) ("Chart"), a leading global engineering design and manufacturer of highly engineered equipment servicing multiple applications in the clean energy and industrial gas markets, is celebrating the construction process on its "Teddy 2" facility. This is the company's second facility in Theodore, Alabama.
This plant is expected to fabricate the largest shop-built cryogenic tanks ever manufactured globally – 70% larger than the previous largest with manufacturing production set to begin in the first quarter of 2024.
The tanks manufactured at this site will be used for propellant storage for the aerospace industry, hydrogen and LNG storage for the marine industry, and many other processes and technologies in the sciences and decarbonization industries. Teddy 2's easy access to waterways will provide customers with lower costs, faster freight and transportation to sites.
In addition to the ability to manufacture to this scale, this expansion also contributes significantly to local job creation and economic development efforts for the State of Alabama.
The Teddy 2 facility is expected to achieve annual revenues of more than $175 million.
This also benefits local subcontractors in Alabama for the processes that Chart outsources, including the $7.2 million in improvements to the onsite wharf which were awarded in full to local businesses.
Teddy 2 is anticipated to employ more than 90 people across two shifts as the company continues to receive orders for these applications.
Chart began construction of this greenfield 127,000 square foot facility in Theodore, Alabama in early April 2023, and it is due to complete in April of 2024.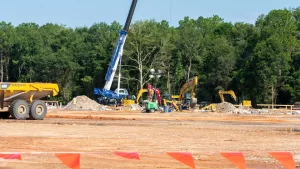 What they're saying: "We're thrilled to be expanding into our second facility in Theodore, Alabama," said Jill Evanko, CEO and President of Chart Industries. "This location is ideal for its water access, access to a strong skilled workforce, and capabilities to leverage our Teddy 1 capabilities, all supporting our expansion to serve our customers that want larger cryogenic tanks built in America."
Brent Barkin, Mobile Chamber Chairman of the Board said, "On behalf of the Mobile Chamber, I'd like to thank Chart Industries for choosing to invest in Mobile and its people, bringing a wealth of jobs to our region and further supporting our economic development efforts."
The bottom line: The construction progress of Chart Industries' "Teddy 2" facility in Theodore, Alabama is a significant milestone for the company. With the ability to manufacture the largest shop-built cryogenic tanks globally, this expansion not only contributes to job creation and economic development in Alabama but also positions Chart Industries as a leader in serving various industries such as aerospace, marine, and decarbonization.
About the Mobile Chamber
The Mobile Chamber is a private business organization with more than 1,700 members and the economic developer for the City of Mobile and Mobile County. The Mobile Chamber's focus is to provide members with networking, marketing and professional development opportunities, expand jobs in the area, develop the local workforce, advocate legislative priorities and offer resources to help small businesses grow. Additional information is on the Chamber's website, Facebook, Instagram, LinkedIn, Twitter and YouTube.