Official Groundbreaking Ceremony Held For Isom Clemon Civil Rights Memorial Park
Officials from the City of Mobile, Mobile County, Downtown Mobile Alliance, Mobile Arts Council and others including Clemon family members, participated in the Isom Clemon Civil Rights Memorial Park renovation groundbreaking on July 26.
Isom Clemon Civil Rights Memorial Park is a City of Mobile triangular pocket park located at 520 Dr. Martin Luther King, Jr. Avenue in Mobile.

It is bounded by Dr. Martin Luther King Jr. Avenue, Hamilton Avenue and Congress Street.

The park is across the street from the International Longshoremen's Association Local 1410, a prominent meeting place in Mobile during the Civil Rights era and an organization led by Clemon for many years.
Through efforts led by the late City Councilor Levon Manzie, Isom Clemon Civil Rights Memorial Park was named through a Mobile City Council resolution adopted in 2016.
The History: Isom Clemon (Oct. 18, 1919 – April 16, 1994) led the International Longshoreman's Association Local 1410, a labor union established in 1936 to represent the City of Mobile's African American longshoremen.
Clemon was also one of the co-founders of the Alabama Democratic Conference (ADC), founded in 1960 to help African Americans gain political access.

He was instrumental in helping get the first African American delegates from Alabama seated at a Democratic National Convention.
"This park is a well-loved space in this community where residents have long gathered to share stories of The Avenue. It is fitting that it will serve as the gateway to the proposed Civil Rights and Cultural Heritage District. Highlighting the life and legacy of Isom Clemon, his work as a labor leader and civil rights pioneer in the shadow of his beloved ILA Local 1410 is so appropriate," said Mobile County Commissioner Merceria Ludgood, who represents District 1.
When renovations are complete, the Isom Clemon Civil Rights Memorial Park will include a play area, the colors of which were selected after consultation with schoolchildren at nearby Florence Howard Elementary.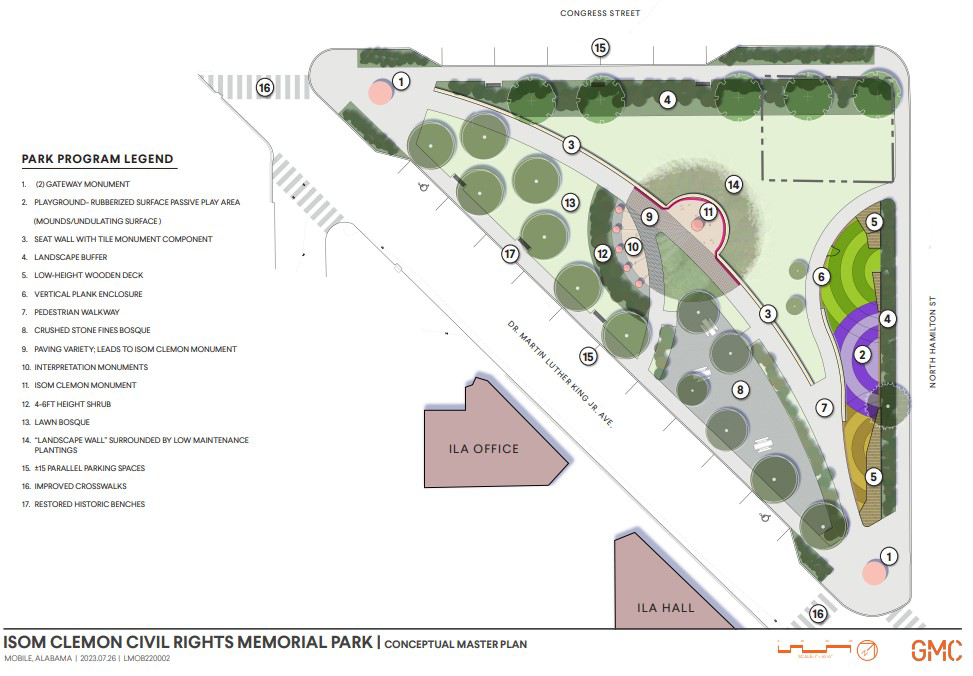 The park will also include seating areas, sidewalks, plants and multiple public art pieces:
A larger-than-life-size bronze statue of Isom Clemon and educational relief plaques will tell the story of organized African American labor in Mobile. These art pieces were selected for the park through a contest overseen by the Mobile Arts Council. Steven Whyte Sculpture Studios and Mobile Studio, will create and install these pieces.

A metal angel sculpture commissioned by Downtown Mobile Alliance and created by local artists Charles Smith and Frank Ledbetter will also be placed in Isom Clemon Civil Rights Memorial Park.
Get Involved: Downtown Mobile Alliance is currently holding a public engagement contest to name the sculpture. Information about the sculpture and the name submission form are available at https://link.edgepilot.com/s/4ea92277/tPMenCNOiE2yu3T5JOdXqg?u=https://form.jotform.com/231854302297053.
Downtown Mobile Alliance worked with Manzie and began efforts toward the design and renovation of the park. Manzie's death in 2021 slowed the park's progress.
Mobile County Commission obligated some of its American Rescue Plan Act dollars into Isom Clemon Civil Rights Memorial Park's design and construction.
These ARPA investments will increase public outdoor spaces and aid economic recovery by spurring tourism anchored by additional cultural assets and infrastructure.

Additional funding from the City of Mobile, the Mobile County Commission, the downtown TIF (tax improvement fund), and other sources, mean that approximately $1.4 million has been appropriated from various sources for the planned upgrades to Isom Clemon Civil Rights Memorial Park.
Mayor Sandy Stimpson said: "This project is another excellent example of what can happen when great partners work together toward a shared vision. The planning of the renovations at the Isom Clemon Civil Rights Memorial Park has brought together elected leaders, community groups, non-profits, local students and members of the Clemon family.
This project helps ensure that Isom Clemon's and the ILA's role in Mobile's Civil Rights movement is remembered while creating a beautiful and engaging space for Mobilians to gather together.
Construction should be complete by the end of 2023. Park improvements were planned by Goodwyn Mills Caywood and construction will be completed by S.C. Stagner Contracting, Inc.
About the Mobile Chamber
The Mobile Chamber is a private business organization with more than 1,700 members and the economic developer for the City of Mobile and Mobile County. The Mobile Chamber's focus is to provide members with networking, marketing and professional development opportunities, expand jobs in the area, develop the local workforce, advocate legislative priorities and offer resources to help small businesses grow. Additional information is on the Chamber's website, Facebook, Instagram, LinkedIn, Twitter and YouTube.