American WeatherStar – 2023 Mobile Chamber Small Business of the Year Finalist

Video courtesy of WKRG
American WeatherStar is an industry-leading manufacturer of fluid-applied roof restoration solutions.
Their systems are proven to:
Stop leaks
Reduce energy costs
Cool buildings
Improve sustainability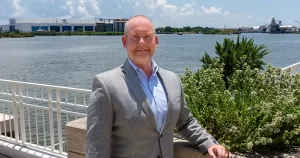 Brian O'Donnell started American WeatherStar in 2004.
Since moving to their new location in Irvington in 2020, their overall sales have doubled and the number of employees has grown from 30 to more than 50.
In March 2023, they broke ground on a larger manufacturing facility and announced the purchase of a 5-acre lot next to their current property for future growth.
American WeatherStar stands out for their "Fast Academy", a training program that provides commercial roofing professionals with a comprehensive overview of their fluid-applied roof restoration system. The program helps professionals expand and diversify their businesses.
Congratulations to American WeatherStar, a 2023 Mobile Chamber Small Business of the Year finalist. Other finalist include Port City Industrial, LLC and TC Boiler & Piping, Inc.
Thank you to all the 2023 Mobile Chamber Small Business of the Year sponsors:
Presenting sponsors: Merchants & Marine Bank, and Blue Cross and Blue Shield of Alabama
Silver Sponsor: Trustmark
Bronze Sponsor: Landshark Promotions
In-kind Sponsors: Jeff Tesney Photography, Lamar, Lush Home Garden Event and WKRG News 5
About the Mobile Chamber
The Mobile Chamber is a private business organization with more than 1,700 members and the economic developer for the City of Mobile and Mobile County. The Mobile Chamber's focus is to provide members with networking, marketing and professional development opportunities, expand jobs in the area, develop the local workforce, advocate legislative priorities and offer resources to help small businesses grow. Additional information is on the Chamber's website, Facebook, Instagram, LinkedIn, Twitter and YouTube.