Vertex: Not Just Cutting Ribbons, Cutting Emissions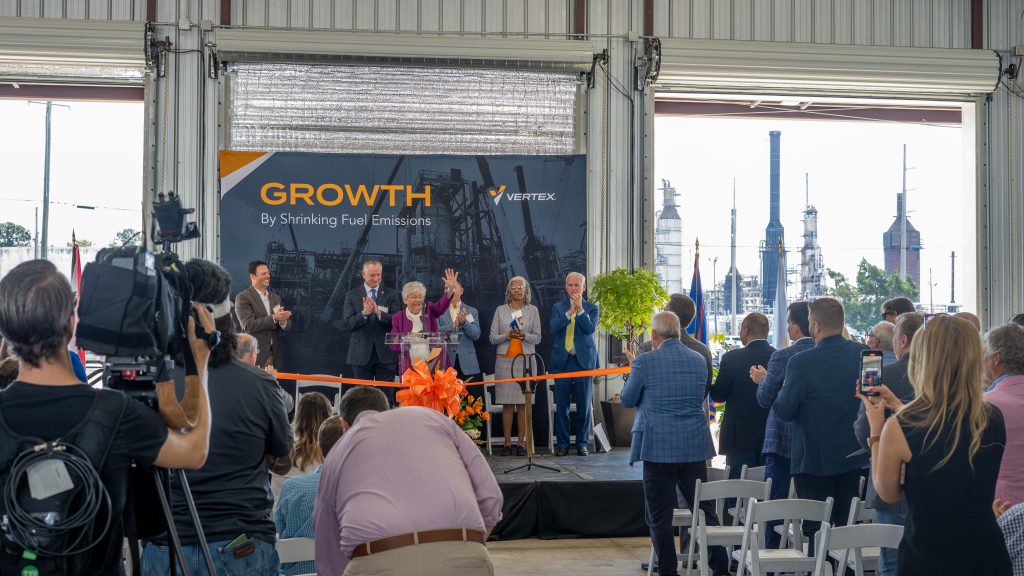 SARALAND, Ala. – Vertex Energy, Inc., a Houston-based energy transition company, has opened its first renewable diesel facility in Alabama. The facility, located at the company's Mobile refinery in Saraland, is the first of its kind in the state and was commissioned on Friday, April 28th, in the presence of Alabama Governor Kay Ivey, Mobile County Commissioner Merceria Ludgood, Mobile Chamber President & CEO Bradley Byrne, and other special guests.
The $115 million conversion project was launched in 2022 when Vertex acquired a conventional fuels refinery from Shell plc. The company was able to save 200 jobs and increase the Mobile employee base by 5%.The newly converted renewable diesel unit has been designed to produce renewable diesel fuel that can be used as a direct replacement for traditional petroleum diesel. Soybean oil is currently the primary feedstock for the production process, with other organic waste oils to be used in the future.
Alabama's soybean farmers will play a crucial role in supplying the feedstock, along with other suppliers across the country. This collaboration between Vertex and these suppliers is expected to help strengthen the local agricultural sector and foster a stable transition to renewable energy sources.
Vertex's Chief Executive Officer, Benjamin P. Cowart, expressed his excitement about the project, stating that the initiative represented more than just cutting ribbons but was also a way of cutting emissions and carving a new path for the site, the city, and the state of Alabama.
The project is expected to provide stability around the energy transition in a way that promotes energy security while also underscoring the company's commitment to environmental responsibility.
"Vertex is already engaged with the local community providing resources for the Mobile area to grow. Their Community Advisory Panel engages our chamber, local K-12, and higher education, local government, law enforcement, environmental groups and others to bring transparency and accountability," said Mobile Chamber President and CEO Bradley Byrne. "We appreciate Vertex being here and we look forward to coming back to cut many more ribbons as they grow and expand."
To support the local community during the upgrade of the refinery, Vertex worked closely with local engineering firms and other contractors. The project resulted in an estimated $4 million in local workforce spending and the support of 600 construction jobs.
Vertex's safety incentive program, which allows Vertex employees and contractors to allocate dollars to Make-A-Wish Alabama for every OSHA injury-free workday completed during the turnaround, reached its target of 12 wishes granted for a total of $120,000.
Governor Ivey praised the project as "a testament to Alabama's ingenuity and resilience," highlighting Vertex's embrace of new technologies while providing the traditional fuels on which Alabamians depend. She underscored the additional benefits of providing price support for Alabama farmers and noted that Vertex's efforts would help foster economic growth opportunities from farm-to-facility while offering low-carbon fuel products that contribute to a cleaner environment.
Houston-based Vertex Energy, Inc. is focused on the production and distribution of conventional and alternative fuels. The company owns a refinery in Mobile with an operable refining capacity of 75,000 barrels per day and more than 3.2 million barrels of product storage, positioning it as a leading supplier of fuels in the region. The company is also one of the largest processors of used motor oil in the U.S., with operations located in Houston and Port Arthur (TX), and Marrero (LA). Vertex also owns a facility, Myrtle Grove, located on a 41-acre industrial complex along the Gulf Coast in Belle Chasse, LA, with existing hydroprocessing and plant infrastructure assets, that include nine million gallons of storage. The company has built a reputation as a key supplier of base oils to the lubricant manufacturing industry throughout North America.
About the Mobile Chamber
The Mobile Chamber is a private business organization with more than 1,700 members and the economic developer for the City of Mobile and Mobile County. The Mobile Chamber's focus is to provide members with networking, marketing and professional development opportunities, expand jobs in the area, develop the local workforce, advocate legislative priorities and offer resources to help small businesses grow. Additional information is on the Chamber's website, Facebook, Instagram, LinkedIn, Twitter and YouTube.