Mobile Chamber Recognizes Retired, Current & Future Military Leaders During the 36th Annual Military Appreciation Lunch
The Mobile Chamber and its Military Affairs Committee honored retired, current and future military leaders during its 36th Annual Military Appreciation Lunch held at the USS ALABAMA Battleship Memorial Park. The presenting sponsor was Atlas Industrial Outsourcing.
"It's an honor to recognize the servicemen and women who are making a difference here and abroad," said Mobile Chamber President and CEO Bradley Byrne. "We also want to recognize the young cadets who will one day become the next generation contributing to Mobile's rich military history."
The program paid tribute to the impact military personnel have on the local business community and included several awards for each branch of the military and recognized outstanding ROTC and JROTC cadets.
Gen. Gary Cooper Outstanding Service Award
Dr. Jeremy Fletcher, Veterans Recovery Resources
The General Gary Cooper Outstanding Service Award is given to a current or former military service member who inspires others by living out the values we see in Major General Cooper including achievement, courage, excellence and humility. The 2023 General Gary Cooper Outstanding Service Award recipient is Dr. Jeremy Fletcher. He is a member of the U.S. Army Reserve and a Veteran of the War in Afghanistan. He is the director of community integration for Veterans Recovery Resources, a Mobile, Alabama-based non-profit mental and physical health clinic. Within his role at VRR, he leads the development of innovative community-based mental health programming for veterans, first responders, and their families.
U.S. Navy League Hugh M. Casteix Award
BM1 Ryan Owen, USCG
The Mobile Council of the U.S. Navy League is proud to recognize local active-duty members of the Sea Services for their outstanding accomplishments in the performances of their duties.
The Hugh M. Casteix Winner is BM1 Ryan Owen, USCG. Petty Officer Owen is currently assigned to the deck division at the Gulf Strike Team (GST) in Mobile, Alabama. He is a qualified National Strike Force (NSF) response member, coxswain, flood responder, flood response coxswain and flood response team leader. His collateral duties include serving as a confined space rescue team member, aircraft load planner, UGV operator and command duty officer.
RADM J. Lloyd Abbot Award
ET2 Ryan Reid, USN
Electronics Technician Ryan Reid is a native of Navarre, Florida, and is currently stationed aboard LCS Crew 233 Blue, the commissioning crew of the future USS Augusta (LCS 34).
He is a Bob Feller Act of Valor Award Winner for his efforts for the Coalition of Sailors Against Destructive Decisions onboard Naval Station Great Lakes.
University of South Alabama Army ROTC Cadet of the Year: Cadet Anna Lane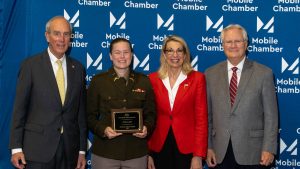 The University of South Alabama Army ROTC Cadet of the Year Award recognizes a cadet who has shown exemplary leadership skills throughout the year and is a model cadet. The 2023 winner is Cadet Anna Lane.
Air Force Association STEM Teachers of the Year
The Air Force Association recognizes teachers who have made remarkable contributions to educating our children – especially in the areas of Science, Technology, Engineering and Mathematics, or "STEM".
Middle School: Alesha Spencer, Denton Magnet School of Technology
Alesha Spencer coaches the Denton robotics team. The teams are this year's State Champions and state runners-up. Their robotics team will go on to compete at the World's Vex Robotics competition in Dallas, Texas. Spencer has also been recognized as Teacher of the Year for 2023 at Denton Magnet School of Technology.
High School: Michael Fletcher, Davidson High School
Michael Fletcher is the robotics coach for the past 19 years at Davidson High School. Under his leadership, the Davidson team has won locally and regionally more times than any other team in the history of the BEST Robotics Competition. Their team has taken first place for the past two years.
University of South Alabama Air Force ROTC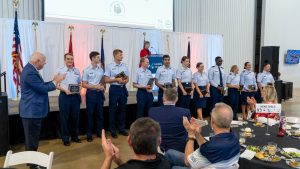 The following University of South Alabama Air Force ROTC Cadets were also recognized:
Cadet Keanan Ard
Cadet Melanie Watson
Cadet Codi Clemmons
Cadet Micah Hurst
Cadet McKenna Murphy
Cadet Julia Pizzo
Cadet Daniel Irani
Cadet Joshua Vegeler
Cadet Micah Baughman
Cadet Gabriel Bohler
Cadet Connor Gavitt
Mobile County Public School System Junior ROTC Cadet Awards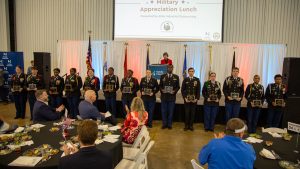 The following Junior ROTC Cadets were also recognized from each of their schools:
C/MSG Jadon Martin, Baker High School
C/1LT Kaleah Holcombe, Blount High School
C/CSM Dennis W. Zirlott, Bryant High School
C/CSM Abbie Roberts, Citronelle High School
C/LCDR Vincent Vasquez, Davidson High School (Navy)
C/LTC Randy Stewart, LeFlore High School
C/2LT Alyssa Christian, Mary G. Montgomery High School
C/LTC Timberly Gibbs, Murphy High School
C/CSM Marla Williams, B.C. Rain High School
C/LTC Alexis M. Crocker, Theodore High School
C/COL Nia Inge-Duncan, Vigor High School
C/CPT Brittany White, Williamson High School
C/MAJ Joshua Herbert, Chickasaw High School
C/MAJ Anna Johnson, Satsuma High School
Thank you to our Military Appreciation Lunch sponsors.
Presenting Sponsor
Patriot Sponsors
Alabama Shipyard, Austal USA, Century Bank, Keesler Federal Credit Union, Ingalls Shipbuilding, Merchants Transfer Co.
Cadre Sponsors
BASF, Mobile Airport Authority, Mobile Area Association of Realtors
Venue Sponsor
About the Mobile Chamber
The Mobile Chamber is a private business organization with more than 1,700 members and the economic developer for the City of Mobile and Mobile County. The Mobile Chamber's focus is to provide members with networking, marketing and professional development opportunities, expand jobs in the area, develop the local workforce, advocate legislative priorities and offer resources to help small businesses grow. Additional information is on the Chamber's website, Facebook, Instagram, LinkedIn, Twitter and YouTube.