Spring Hill College Inaugurates First Female President, Mary H. Van Brunt, Ph.D.
The Mobile Chamber's President and CEO, Bradley Byrne, had the distinct pleasure of speaking on behalf of the Mobile community at Spring Hill College's historic inauguration of Mary H. Van Brunt, Ph.D. She is the 39th president and the first woman to hold this office in the school's 193-year history.
Van Brunt brings more than 20 years of leadership experience in Catholic higher education. She has served as Provost, Vice President for Academic Affairs and founding Academic Dean.
She earned a Bachelor of Arts degree in Economics from Ursinus College in Collegeville, Pa., a Master of Business Administration in Accounting from St. Joseph's University in Philadelphia, Pa. and a PhD in Economics from Lehigh University in Bethlehem, Pa.
Her strengths are in the areas of strategic planning, new program development and assessment, fundraising and team building.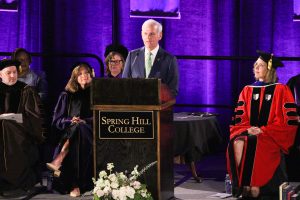 The Mobile Chamber and Spring Hill College have a long and rich history together, "The Mobile Chamber has been here since 1836. As I've looked back through some of our annuals, there has been a close working relationship between Spring Hill College, the Chamber and the Mobile community ever since the beginning," said Byrne during his speech.
The Chamber team congratulates Dr. Van Brunt on her inauguration and looks forward to her positive influence within the Spring Hill community.
To learn more about the 39th president of Spring Hill College, visit Exploring Roots: Dr. Mary H. Van Brunt's Path to the Presidency – www.shc.edu
About the Mobile Chamber
The Mobile Chamber is a private business organization with more than 1,700 members and the economic developer for the City of Mobile and Mobile County. The Mobile Chamber's focus is to provide members with networking, marketing and professional development opportunities, expand jobs in the area, develop the local workforce, advocate legislative priorities and offer resources to help small businesses grow. Additional information is on the Chamber's website, Facebook, Instagram, LinkedIn, Twitter and YouTube.