Celebrating Women's History Month – Chris Gibson – Mobile United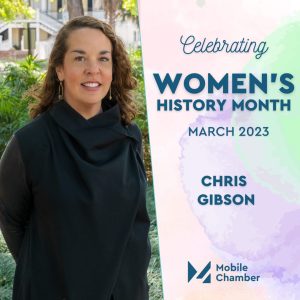 The Mobile Chamber is proud to spotlight members of our community that provide a significant impact during Women's History Month.
Chris Gibson has shaped Mobile's youth, young professionals and business leaders through her leadership at Mobile United.
Mobile United
was founded in 1972 to address racial tension and bring a diverse coalition of leaders together to collectively address problems. Today, Mobile United is known for its Youth Leadership, Connect Mobile and Leadership Mobile programs – always keeping diversity, equity and inclusion as a core focus.
After moving to Mobile, Chris began her journey in Mobile working for the Main Street Department. For Chris, this job checked all the boxes: community development, economic revitalization, supporting local businesses and working in the arts.
Chris continued to volunteer her time and expertise on various committees until coming on staff in 2014 and then stepping into the Executive Director role for Mobile United in 2020.
The passion she feels for her job comes from ongoing projects that are incubated at Mobile United, such as the Crepe Myrtle Trail's incorporation into both the Mobile Airport Authority & Brookley by the Bay's master planning as well as the Hispanic Business Association's recent seed funding for a commissary kitchen.
For Chris, however, the most rewarding part is seeing the graduates of the Mobile United programs take on leadership roles and make a real difference throughout the city.
Thank you, Chris, for sharing your dedication and passion with our community! The Mobile Chamber is honored to feature you during Women's History Month.
If you are interested in applying for Connect Mobile Class of 2023, go to
https://bit.ly/3LKgbjA
. The application deadline is April 7, 2023.
If you are interested in nominating yourself or someone you know for Leadership Mobile Class of 2024, go to
https://bit.ly/3K4loBA
. The nomination window will close on May 5, 2023.
About the Mobile Chamber
The Mobile Chamber is a private business organization with more than 1,700 members and the economic developer for the City of Mobile and Mobile County. The Mobile Chamber's focus is to provide members with networking, marketing and professional development opportunities, expand jobs in the area, develop the local workforce, advocate legislative priorities and offer resources to help small businesses grow. Additional information is on the Chamber's website, Facebook, Instagram, LinkedIn, Twitter and YouTube.