Mobile Chamber Women's History Month Business Spotlight – Liz Freeman – Long's Human Resource Services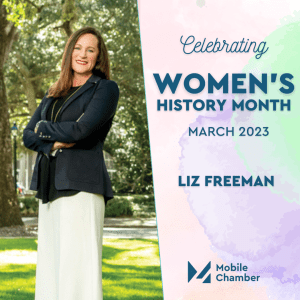 The Mobile Chamber is proud to spotlight members of our community that provide a significant impact during Women's History Month. Elizabeth "Liz" Freeman undoubtedly helps to shape and grow the business community through her leadership at
Long's Human Resource Services
.
Long's Human Resource Services was started by Liz's grandfather, Tom Long, in April of 1948. Initially opening in downtown Mobile in the Graystone building on St. Joseph St, Long's has been passed down through generations. Liz and her husband, Jud, obtained full ownership in January of 2022.
Today, Liz and her team offer recruiting services for professional and executive level positions and provide supplemental staff for clients in administrative and production environments. Long's executive searches cover accounting/finance, IT, engineering, manufacturing and professional industries. Bringing talented leaders from all over the country to the Gulf Coast.
Thank you Liz, for your dedication to the Mobile area business community. While the team at Long's may not get to advertise all the talent they have brought to our community due to confidentiality, we appreciate their professionalism, discretion and passion for finding and placing talented individuals in the right job. The Mobile Chamber is honored to feature you during Women's History Month. It is no surprise this WBENC certified business is gearing up to celebrate its 75th anniversary on April 18, 2023!
About the Mobile Chamber
The Mobile Chamber is a private business organization with more than 1,700 members and the economic developer for the City of Mobile and Mobile County. The Mobile Chamber's focus is to provide members with networking, marketing and professional development opportunities, expand jobs in the area, develop the local workforce, advocate legislative priorities and offer resources to help small businesses grow. Additional information is on the Chamber's website, Facebook, Instagram, LinkedIn, Twitter and YouTube.