Raymond L. Bell Jr. Executive Profile
Executive Profile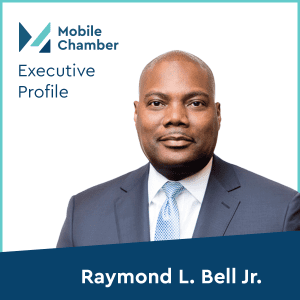 Raymond L. Bell Jr.
Company: Maynard Cooper & Gale
 Title/Position: Shareholder
 Hometown: Mobile, AL
 Education: He is a graduate of the University of Montevallo and Theodore Goode Jones School of Law
 Who/what inspires you: My father. Self-made from Prichard, AL. Left home after high school and pursued his education, became a physician, supported his family and has done a lot for others. A man among men.
 Previous Experience:  Prior to practicing law Bell served as special assistant to the President Pro Tem of the Alabama State Senate, special assistant to the Alabama Lieutenant Governor and appointment secretary to the Governor of Alabama. He also served as a Deputy Attorney General for the State of Alaand asnd was appointed as an Administrative Law Judge by the Alabama State Attorney General.
Hidden talent: Tree grafting and cooking. "Don't do either often but have been told I'm pretty good at both."
What word would you use to describe yourself? Unselfish.
Favorite food/restaurant: Pizza. Acropolis Pizza.
Do you believe in luck or destiny? Both but "I believe faith and work provide better outcomes".
What is one of the most useful thing you own? iPhone. Can't function without it.
Aside from necessities, what one thing you could not go a day without? Knowing that my children are safe.
What is your passion? Cooking. Just don't get to do it much anymore.
What could you talk about all day long? (other than your kids and family) Politics.
Your first car was: a 1978 Chevy Monza (briefly – sister hand down) then a 1978 Porsche 924.
The last book you read: Turn the Ship Around.
What were you doing in your 20s? Going to School, partying and partying.
What talent would you most like to have? A photographic memory.
Your motto: As long as I have breath my children have more than a chance!
What are two of your favorite names? Pooter and Toot (my nicknames for my daughter)
What quality you most like in people? The ability to understand that we don't have to agree or get along.
Brief company description: Maynard Cooper & Gayle is a full-service law firm with qualified professionals working in almost every important area of the law to offer innovative solutions to clients that face complex business and legal challenges
About the Mobile Chamber
The Mobile Chamber is a private business organization with more than 1,700 members and the economic developer for the City of Mobile and Mobile County. The Mobile Chamber's focus is to provide members with networking, marketing and professional development opportunities, expand jobs in the area, develop the local workforce, advocate legislative priorities and offer resources to help small businesses grow. Additional information is on the Chamber's website, Facebook, Instagram, LinkedIn, Twitter and YouTube.