Mobile Chamber Announces 2023 Board Chair, Executive Committee and Board of Directors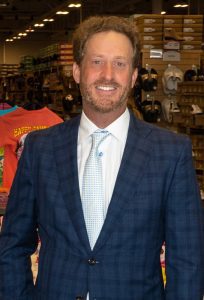 The Mobile Chamber is proud to announce that Brent Barkin, former president and CEO of Shoe Station, will be the 2023 chairman of the Mobile Chamber board of directors.
Barkin's father started Shoe Station in Mobile in 1984. Barkin joined the management team of the family business in 2002 and led the brand for seven years. Shoe Station sells women's, men's and children's footwear, apparel and accessories for a family-focused market in 22 stores in five southeastern states, including 10 stores in Alabama.
At the close of 2021, Barkin negotiated the acquisition of Shoe Station by footwear retail giant Shoe Carnival, where he served as senior vice president of new business development and integration and led the Shoe Station brand until December 2022.
"I'm honored and humbled to serve as the chair of the Mobile Chamber," said Mobile Chamber Chairman Brent Barkin. "The Chamber plays a vital role nourishing and cultivating the environment within which businesses can plant their seeds and flourish. Whether in networking or business retention and attraction, there is rarely an area where the Chamber has not made the business climate of our area more attractive. I'm overwhelmed by the positive changes in the region over the last decade, and I'm excited to play a small role in that continued success over my tenure."
The Chamber also has announced that its chair-elect for 2024 is Melissa Cross, president and owner of McAleer's Office Furniture.
In addition to Barkin and Cross, the Chamber's 2023 executive committee members are:
Raymond Bell, Maynard Cooper & Gale
Vice Chair of Economic Development and Talent Attraction
Janet Cobb, USS ALABAMA Battleship Memorial Park
Vice Chair of Military Affairs
Tommy Faust, Trustmark
Vice Chair of Small Business Development
Kim Garrett, Victory Health Partners
Vice Chair of Community Development
Sidney King, Commonwealth National Bank
Vice Chair of Diversity, Equity and Inclusion
Eliska Morgan, Thompson Engineering, Inc.
Vice Chair of Communications
Patrick Murphy, Alabama Power Company
Vice Chair of Membership
Catherine Spann, Burr Forman, LLP
Legal Counsel
George Talbot, Volkert, Inc.
Vice Chair of Advocacy
Matt White, White-Spunner Realty, Inc.
Immediate Past Chair; and
Bradley Byrne, Mobile Chamber President and CEO
The following new board members have begun serving three-year terms that started on January 1, 2023:
Joe T. Stough, III, Infirmary Health
Robin Hanes, Leavell Investment Management, Inc.
Catherine Spann, Burr Forman, LLP
The full list of the Chamber's board of directors can be viewed on our website.
About the Mobile Chamber
The Mobile Chamber is a private business organization with more than 1,700 members and the economic developer for the City of Mobile and Mobile County. The Mobile Chamber's focus is to provide members with networking, marketing and professional development opportunities, expand jobs in the area, develop the local workforce, advocate legislative priorities and offer resources to help small businesses grow. Additional information is on the Chamber's website, Facebook, Instagram, LinkedIn, Twitter and YouTube.