EAGLE AWARD WINNER – Honest Air LLC
Business View – October 2022 / Eagle Award Luncheon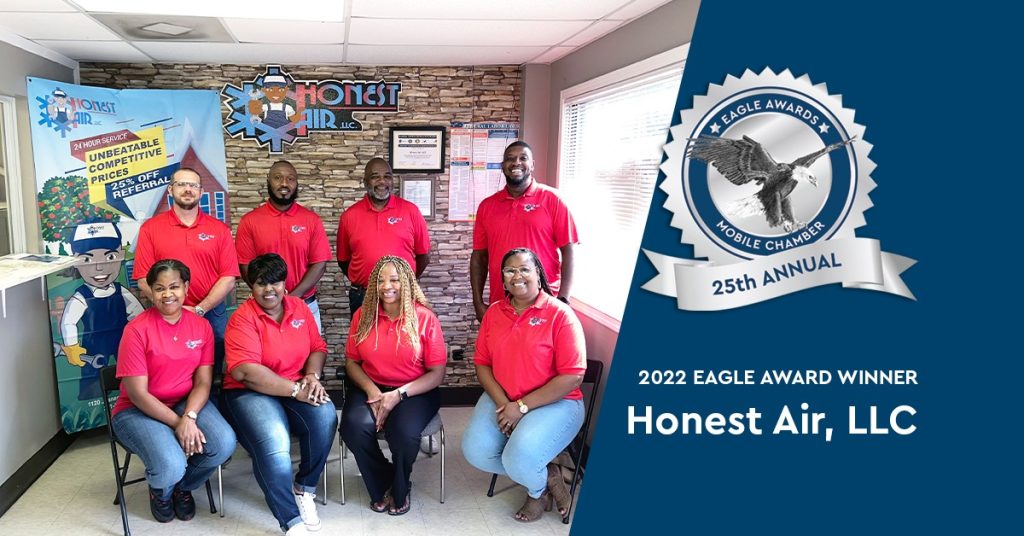 Seated from left to right: Vernekie Hall, Dee Scott, Tomika Tillman, Shanavia Spivery, Standing from left to right: Matthew Ballard, Nicolette Wheeler, Tyrone Hall, Nicholas Powe
Nicholas Powe started working in the HVAC industry at the age of 18 and enrolled in classes to become licensed in the trade. After graduating from Bishop State Community College and becoming a licensed HVAC contractor, Powe started Honest Air LLC in 2015, on his skills and faith.
The company offers product care services including air conditioning system installation (except window units); air vent installation; furnace conversions (from one fuel to another); refrigeration system installation; heating, ventilation and air conditioning (HVAC) contractors; furnace humidifier installation; natural gas fireplace installation; duct work; dust collection; exhaust and ventilation equipment installation; and heating and ventilation system component installation.
"Our clients' best interest always comes first, and everything we do is guided by our values and professional ethics," said Powe. "We ensure that we hold ourselves accountable to the highest standards by meeting our clients' needs precisely and completely. We offer service agreements that will help our clients maintain their HVAC system, which will help them save money with routine maintenance. We offer affordable financing to those clients who are experiencing hardship. This brings convenience and peace of mind to our clients."
One of the biggest challenges for the company is finding skilled, knowledgeable technicians. "Being a small business owner
sometimes makes it hard to compete with the larger corporations," said Powe. "Although we offer health and retirement benefits, we still face challenges to attract the skilled professional technician."
In giving back to the community, Honest Air hosts youth giveaways during the holiday season and back-to-school time. In addition, Powe said he gives back to local churches monetarily or through free services.
Our clients' best interest always comes first, and everything we do is guided by our values and professional ethics." Nicholas Powe, owner
Click here to read the Business View – October 2022
Additional information is on the Mobile Area Chamber of Commerce's website at mobilechamber.com, on Facebook at @MobileChamber, Instagram at @mobile-area-chamber and Twitter at @MobileChamber.
About the Mobile Chamber
The Mobile Chamber is a private business organization with more than 1,700 members and the economic developer for the City of Mobile and Mobile County. The Mobile Chamber's focus is to provide members with networking, marketing and professional development opportunities, expand jobs in the area, develop the local workforce, advocate legislative priorities and offer resources to help small businesses grow. Additional information is on the Chamber's website, Facebook, Instagram, LinkedIn, Twitter and YouTube.