AT WADE DISTRIBUTORS, THE HALL FAMILY FOCUSES ON FLOORING
Business View – September 2022 / Small Business of the Month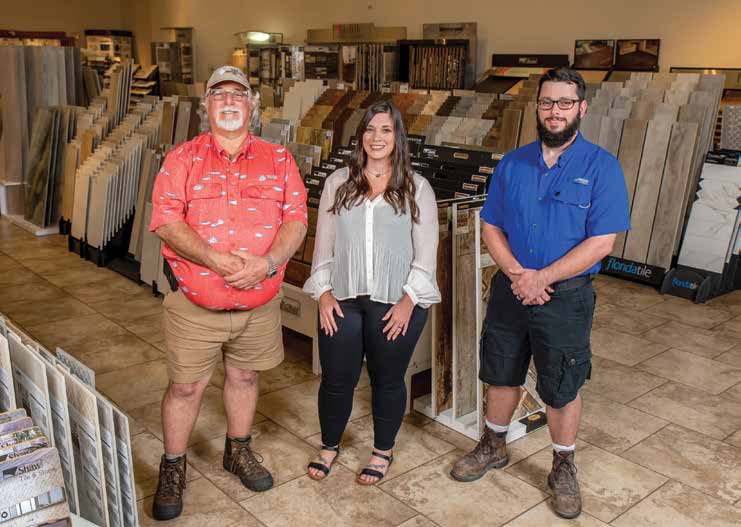 Spanning almost 50 years of service to the Mobile area, Wade Distributors stands ready to help customers with their flooring needs. Pictured are Steve Hall, Danielle Myer and Steve Hall Jr.
After nearly half a century of service in south Alabama, Wade Distributors Inc. is still a market leader in residential and commercial flooring, as well as custom tile work. The company, founded in 1974, is the Mobile Chamber's Small Business of the Month.
The Hall family has been there since the beginning, starting with Tom Hall, who started the business with his partner, and the company's namesake, Jack Wade. Hall was a silent partner in the early days, working for a commercial tile company in Louisiana, where he and his wife were raising their children. They migrated east to Mobile in 1979, when Tom Hall bought out Wade, but kept his name and brand recognition in the community.
The following year, Tom's son Steve joined the company, ushering in a new generation. Twenty-eight years later, he would succeed his father as president of the company, and Steve Hall's son and daughter have long worked for their father at Wade Distributors, marking the third generation of Halls continuing to run the family business.
Wade operates a 35,000-square-foot warehouse on the I-65 beltline, with an additional 10,000 square feet in Foley, but the hallmark of the business is its 4,000-square-foot showroom adjacent to the Mobile facility.
"We have installers, builders, decorators and designers who send their people in to pick from us," Steve Hall said. "And the designers especially love my showroom because we have new stuff all the time. This way you can look at the actual color, just like with paint strips."
His daughter, Danielle Myer, is the company's vice president, and Steve Hall Jr. runs the Foley warehouse. Steve's brother, Bob Hall, also works for Wade Distributors as the lead salesman for Baldwin County.
While not recession-proof, the company has weathered many storms — both literal and financial — because of a standard of service and expertise that goes all the way back to Tom Hall's work in the industry in the 1960s. Despite high inflation and supply chain issues, Wade Distributors continues to surge forward in local markets, working on everything from home renovations in Mobile, where new construction is stagnant, to multi-million-dollar builds in Baldwin County, which is undergoing a generational housing boom.
"People are building two-, three- and four-million-dollar homes, and we're steadily putting flooring in all of them," Steve Hall said.
Community service has always been an important part of the Hall family business, he added. In addition to supporting causes through Chickasaw city schools, St. Mary's Home and the U.S. Marine Corps' Toys for Tots, the company also recently donated materials to a local woman who was scammed by a contractor. Her bathroom was basically destroyed in the process, so Wade Distributors sent employees to install a shower stall and new flooring.
"It's such a good thing giving back to the community," he said. "So that's what we do."
COMPANY NAME: Wade Distributors Inc.
OWNER: Steve Hall
PHONE: 251.213.2657
WEBSITE: wadedistributorsinc.com
LOCATION: 1100 E. I-65 Service Rd. N., Mobile
Want to be featured as a Mobile Chamber Small Business of the Month? Go to mobilechamber.com to apply online, or contact Danette Richards at 251.431.8652 for questions and/or additional information.
Click here to read the Business View – September 2022
Additional information is on the Mobile Area Chamber of Commerce's website at mobilechamber.com, on Facebook at @MobileChamber, Instagram at @mobile-area-chamber and Twitter at @MobileChamber.
About the Mobile Chamber
The Mobile Chamber is a private business organization with more than 1,700 members and the economic developer for the City of Mobile and Mobile County. The Mobile Chamber's focus is to provide members with networking, marketing and professional development opportunities, expand jobs in the area, develop the local workforce, advocate legislative priorities and offer resources to help small businesses grow. Additional information is on the Chamber's website, Facebook, Instagram, LinkedIn, Twitter and YouTube.