AT MISSION FITNESS, MEMBERS 'SWEAT FOR GOOD'
Business View – September 2022 / Member Spotlight
The Mission Fitness family is ready to help you with your fitness needs. Pictured from left to right are Robin Roach (seated), Annette Porter-Ham, Alison Jones, Katy Meador, Michelle Jones and Jessica Sweeney (seated). Photo by L.A. Fotographee
Pablo Picasso is quoted as saying "The meaning of life is to find your gift. The purpose is to give it away." Alison Jones, founder and owner of Mission Fitness, is on a path to do just that.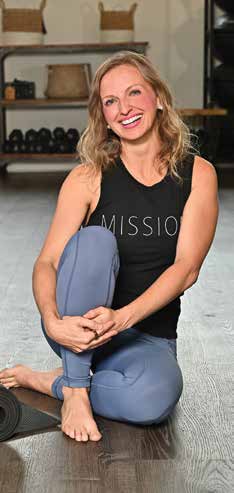 Jones started her career as a stock broker. But after years in the financial industry, she found herself feeling unfulfilled and disconnected. After much soul searching and hard realizations, she made the decision to walk away from a thriving career to find her passion.
She dabbled in photography and graphic design and even began to investigate getting a master's degree, but it was through fitness that she began to feel like herself again.
"I remember leaving the financial industry and feeling so gross. I was overweight and my back hurt, my neck hurt and I was exhausted all the time," said Jones. "I knew, whatever happened next, my health had to take a front seat."
Jones said she'd been running and taking fitness classes for over a year when her Pilates instructor approached her and encouraged her to get certified to start teaching classes.
In the 13 years since, Jones has received certifications in mat and reformer Pilates, barre, rowing, spinning and cycling, TRX, bosu, yoga and personal training. She's also a certified running coach.
Jones was approached to take over as the group exercise director at Hearin-Chandler YMCA. That role introduced her to the intricacies of running a fitness organization and planted the seed for what would become the mission at Mission Fitness.
"At the Y, I saw first-hand the need in our community and the impact and importance of giving back," said Jones.
Drawing from her background in finance plus experience running a successful group exercise program, Jones opened Mission Fitness in 2017. The majority of her current clients and instructors were thrilled to be part of the community she was creating.
"I collect people," laughed Jones. "And I take them with me wherever I go. We're a pack. A team. A family. And I love them all fiercely."
Mission offers original class concepts based on familiar formats like rowing, cycling, reformer, Pilates, barre, TRX, HIIT, yoga, private training and open gym, all under one roof. Along with novel class designs and complimentary childcare, Mission also prioritizes outreach into the greater community. Since inception, Mission Fitness has infused more than $50,000 into local Mobile nonprofits selected by the membership.
"The mission of Mission is rooted deeply into who we are and what we do," she said. "That heartfelt belief is seen with the conception of Mission's annual inclusion initiatives," including Sweat for Pride [benefiting local LGBTQ+ nonprofits] and Sweat for Equity [benefiting local nonprofits supporting the Black and Hispanic communities].
"In addition to amazing, creative classes, we put our dollars where our hearts are," said Jones. "There are so many incredible options when it comes to selecting a fitness home. But when a soul chooses to join Mission, that decision makes a difference. The time spent here matters. The dollars invested create change. And that's how we continue to 'Sweat for Good.'"
Mission offers drop-ins, class packs, memberships and more. Check out all the options at missionfitness.rocks or 951 Government St. in Mobile.
Click here to read the Business View – September 2022
Additional information is on the Mobile Area Chamber of Commerce's website at mobilechamber.com, on Facebook at @MobileChamber, Instagram at @mobile-area-chamber and Twitter at @MobileChamber.
About the Mobile Chamber
The Mobile Chamber is a private business organization with more than 1,700 members and the economic developer for the City of Mobile and Mobile County. The Mobile Chamber's focus is to provide members with networking, marketing and professional development opportunities, expand jobs in the area, develop the local workforce, advocate legislative priorities and offer resources to help small businesses grow. Additional information is on the Chamber's website, Facebook, Instagram, LinkedIn, Twitter and YouTube.