GHG Financial Planning: Guiding Clients Toward Safer Investment Choices
Business View – June/July 2022/ Small Business of the Month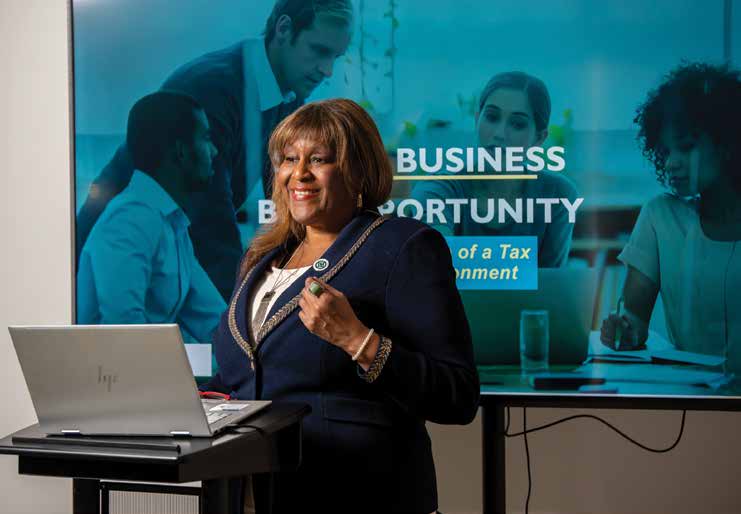 When she was in college, Gina Hitchens thought her career path lay in education, which is the degree she pursued at the time. And while she wasn't wrong about the educational component of her true vocation, a lifelong love of finance led her to make a career through helping people become financially independent while thoughtfully creating generational wealth for their families.
Although she'd been working in the field since the 1980s, in 2008 she officially formed GHG Financial Planning, the Mobile Chamber's Small Business of the Month.
Born in Detroit, Hitchens spent most of her career in Indianapolis before moving to Mobile in late 2018 to be closer to her family. Her company has always maintained a stable of loyal clients, but Hitchens said her roster hit a whole new level of success during the COVID-19 pandemic.
I'm still very much an educator at heart. I just have a different classroom and a different set of students."
Gina Hitchens, owner, GHG Financial Planning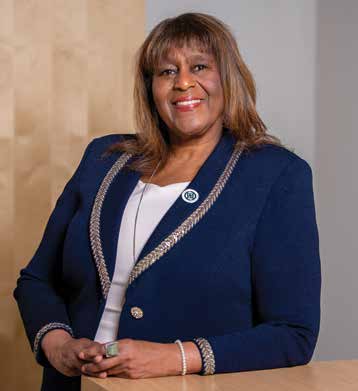 "Ever since then, has been my busy season," she said. In the last couple of years, she and GHG Financial Planning have gravitated toward the retirement income planning space and guiding their clients toward safer investment choices. Hitchens said many of her newer clients are young professionals who aren't connected to traditional retirement approaches, have reframed their priorities and are looking to leave their corporate jobs.
"They are very knowledgeable when it comes to wealth and making a greater impact, and I get extreme value from that," she said. "It's so satisfying to help my clients live a life defined by dignity, independence and choice, whatever that means to them and the legacy they want to leave."
Another key component of the company's current direction is education, whether it's speaking to a conference of women business owners, or coaching clients one-on-one.
Hitchens said she's excited to delve into the financial education side of her industry, especially when it comes to community-based initiatives such as the e-book series she's working on called "The Smart Woman's Guide to Financial Success."
"I'm still very much an educator at heart," she said. "I just have a different classroom and a different set of students."
Hitchens credits the Mobile Chamber for helping her get her footing in Mobile about three years ago. She has made countless connections through its programs, including the Growth Alliance Task Force.
"I'm always looking for opportunities to collaborate with others who have shared services and synergies in providing that financial wellbeing to our community," she said.
COMPANY NAME: GHG Financial Planning
OWNER: Gina Hitchens
PHONE: 251.300.8230
WEBSITE: ghgfinancialplanning.com
LOCATION: 11 N. Water St., Ste. 10290, Mobile
Click here to read the Business View – June/July 2022
Want to be featured as a Mobile Chamber Small Business of the Month? Go to mobilechamber.com to apply online, or contact Danette Richards or call 251.431.8652 for questions and/or additional information.
Additional information is on the Mobile Area Chamber of Commerce's website at mobilechamber.com, on Facebook at @MobileChamber, Instagram at @mobile-area-chamber and Twitter at @MobileChamber.
About the Mobile Chamber
The Mobile Chamber is a private business organization with more than 1,700 members and the economic developer for the City of Mobile and Mobile County. The Mobile Chamber's focus is to provide members with networking, marketing and professional development opportunities, expand jobs in the area, develop the local workforce, advocate legislative priorities and offer resources to help small businesses grow. Additional information is on the Chamber's website, Facebook, Instagram, LinkedIn, Twitter and YouTube.