Around Town – June/July 2022
Business View – June-July 2022 / Around Town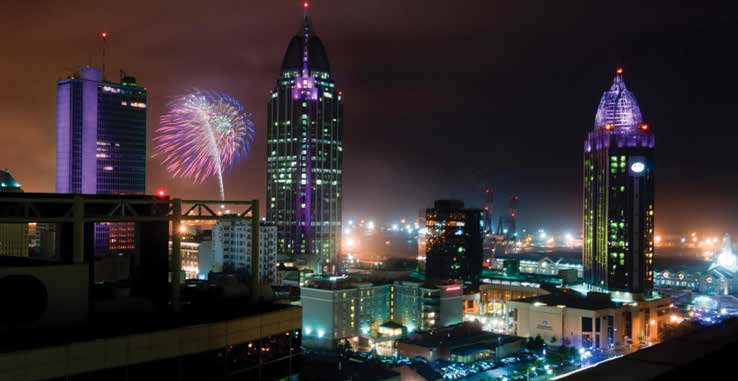 Note: These events are subject to change by the organizers. Check the websites listed below for more information and correct times and dates.
Mobile Symphony Summer Strings
June 7 through July 28 from 10 a.m. to 5 p.m.
Larkins Music Center, 257 Dauphin St., Mobile
Hosted by the Mobile Symphony, this program is for youths in K5 through 12th grade. Learn how to play a string instrument during the summer, or develop new skills under the expert guidance of a professional string teacher artist.
251.432.2010 or mobilesymphony.org
Juneteenth
June 19
Hosted by the city of Mobile, Juneteenth is the oldest known celebration commemorating the end of slavery in the U.S.
Distinguished Young Women
June 23 & 24 -Preliminary Competitions
June 25 – National Finals, Mobile Civic Center
The 65th National Finals of this scholarship competition brings the best and brightest high school seniors from all 50 states to Mobile.
251.438.3621 or distinguishedyw.org
Grand Bay Watermelon Festival
July 3 from 3 to 7 p.m./July 4 from 10 a.m. to 6 p.m.
10327 Taylor F. Harper Blvd., Grand Bay, AL
The 48th annual Grand Bay Watermelon Festival includes entertainment, arts and crafts and the best watermelon around.
251.865.3456 or grandbaywatermelonfestival.org
Mobile's Fourth of July Celebration
July 4 • Downtown Mobile
Hosted by the city of Mobile, this celebration of our nation's independence includes live music and fireworks over the river. Viewable from Cooper Riverside Park and the USS ALABAMA Battleship Memorial Park.
251.470.7749 or cityofmobile.org
The Roy Martin Young Anglers Tournament
July 9 • Dauphin Island
A program of the Mobile Jaycees, the Roy Martin Young Anglers Tournament is designed to bring families together and encourage sportsmanship. The tournament is for children 15 years and younger.
Alabama Deep Sea Fishing Rodeo and Dauphin Island Young Anglers Tournament
July 15 – 17 • Dauphin Island
A program of the Mobile Jaycees, the 89th Alabama Deep Sea Fishing Rodeo is the world's largest fishing tournament.
251.277.7079 or adsfr.com
Gulf Coast Ethnic and Heritage Jazz Festival
July 18 – July 31, 2022 from 5:30 to 10 p.m.
The Downtown Temple, Cooper Riverside Park
Terrific jazz performances highlight a weekend of art, education, culture and music
251.478.4027 or gcehjazzfest.com
Click here to read the Business View – June/July 2022
For a list of upcoming Mobile Chamber events, visit our calendar of events page.
Additional information is on the Mobile Area Chamber of Commerce's website at mobilechamber.com, on Facebook at @MobileChamber, Instagram at @mobile-chamber and Twitter at @MobileChamber.
About the Mobile Chamber
The Mobile Chamber is a private business organization with more than 1,700 members and the economic developer for the City of Mobile and Mobile County. The Mobile Chamber's focus is to provide members with networking, marketing and professional development opportunities, expand jobs in the area, develop the local workforce, advocate legislative priorities and offer resources to help small businesses grow. Additional information is on the Chamber's website, Facebook, Instagram, LinkedIn, Twitter and YouTube.