Mobile United Celebrates 50 Years of Service to the Community
Business View – May 2022 / Business News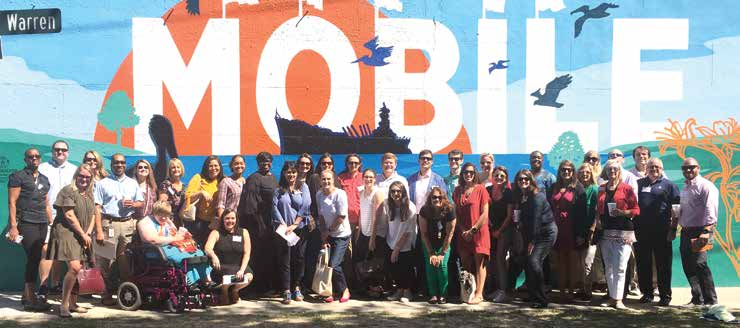 In 1972, Mobile United was created to provide an organized way to deal with and resolve community issues. Since then, it has been a staple in the business world by bringing people together through education, social services, public safety and more, to make Mobile a better place to live.
The organization's mission is to unite the community through deliberative dialogue to train, convene and engage leaders for positive action.
Mobile United is able to accomplish these goals through its staple leadership programs: Leadership Mobile, Connect Mobile and Youth Leadership Mobile. These programs allow individuals to develop their leadership skills and engage in positive action for the betterment of our city.
Chris Gibson, executive director of Mobile United, says being a part of these programs is invaluable to the community and the business leaders engaged with the programs.
"We all know that the government sector can't do everything by itself and that the nonprofit world, by design, plays by a different set of rules, so the business community is uniquely positioned to make the greatest impact on the world in which we live," she said. The ancillary benefit is the networking it provides which oftentimes leads to lifelong relationships with classmates that may have otherwise taken years to develop." In addition to the programs, Mobile United hosts a number of committees and task forces to tackle such issues as natural resources, servant leadership, health services, public safety, diversity and inclusion, government and education.
"There is a great adage that I feel summarizes Mobile United's mission up so well: If you want to go fast, go alone, but if you want to go far, go together," said Gibson. "It's that same mentality that motivated 60 concerned citizens to gather at our first membership meeting on July 11, 1972, 'bringing together into a cooperative effort a cross-section of the leadership of the community' to say: how do we really effect change and move this city forward? And it's the same mentality we still take in deliberating on issues and mobilizing our considerable collective resources to help move the needle in those respective areas."
For more information about Mobile United, visit MobileUnited.org.
▪ Since 1974, there have been 1,450 Leadership Mobile graduates.
▪ Since 1996, there have been 810 rising high school sophomores, juniors and seniors, Youth Leadership graduates.
▪ Since 2015, there have been 119 Connect Mobile graduates of young professionals (21-35).
Click here to read the Business View – May 2022
 Additional information is on the Mobile Area Chamber of Commerce's website at mobilechamber.com, on Facebook at @MobileChamber, Instagram at @mobile-area-chamber and Twitter at @MobileChamber.
About the Mobile Chamber
The Mobile Chamber is a private business organization with more than 1,700 members and the economic developer for the City of Mobile and Mobile County. The Mobile Chamber's focus is to provide members with networking, marketing and professional development opportunities, expand jobs in the area, develop the local workforce, advocate legislative priorities and offer resources to help small businesses grow. Additional information is on the Chamber's website, Facebook, Instagram, LinkedIn, Twitter and YouTube.