Around Town – May 2022
Business View – May 2022 /Around Town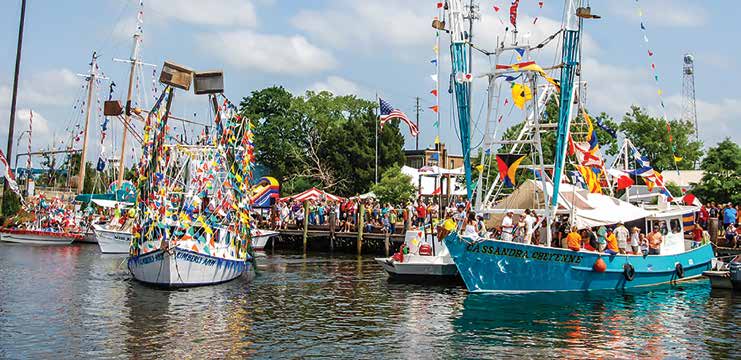 Note that these events are subject to change by the organizers. Check the websites listed below for more information and correct times and dates.
Blessing of the Fleet
May 1 at 2 p.m. | Bayou La Batre
Decorated boats receive the church's blessing for full fishing nets in Bayou La Batre.
stmargaretbayoulabatre.org/blessing-of-the-fleet
Mobile Symphony Youth Orchestra Mother's Day Concert
May 1 from 5:30 to 7:30 p.m. | Medal of Honor Park, 171 Hillcrest Rd., Mobile
Join MSYO in a Mother's Day celebration.
mobilesymphony.org/event/msyo-mothers-day-concert
Gulf Coast Hot Air Balloon Festival
May 12-14 | 100 N. OWA Blvd., Foley
The South Baldwin Chamber of Commerce will host this annual festival in partnership with the City of Foley and OWA.
25th Annual Rufus B. Lee Gumbo Cookoff
May 20 from 5 to 8 p.m. | Cooper Riverside Park, downtown Mobile
The Propeller Club and the Port of Mobile host this annual gumbo cookoff. The event recognizes National Maritime Day, a day annually set aside to recognize America's maritime
industry, and especially those who serve at sea.
propellerclubofmobile.com/event/935
Hangout Music Festival
May 20-22
Gulf Shores
This three-day music festival on the beach features many of the top names in the music industry.
Blue Star Salute & Armed Forces Day
May 21 from 6:30 a.m. to 1 p.m.
USS ALABAMA Battleship Memorial Park
Hosted by the South Alabama Veterans Council, this event celebrates Alabama's military units and veterans.
Click here to read the Business View – May 2022
Additional information is on the Mobile Area Chamber of Commerce's website at mobilechamber.com, on Facebook at @MobileChamber, Instagram at @mobile-area-chamber and Twitter at @MobileChamber.
About the Mobile Chamber
The Mobile Chamber is a private business organization with more than 1,700 members and the economic developer for the City of Mobile and Mobile County. The Mobile Chamber's focus is to provide members with networking, marketing and professional development opportunities, expand jobs in the area, develop the local workforce, advocate legislative priorities and offer resources to help small businesses grow. Additional information is on the Chamber's website, Facebook, Instagram, LinkedIn, Twitter and YouTube.