Bishop State Community College to Offer Manufacturing Program
Business View – April 2022 / Business News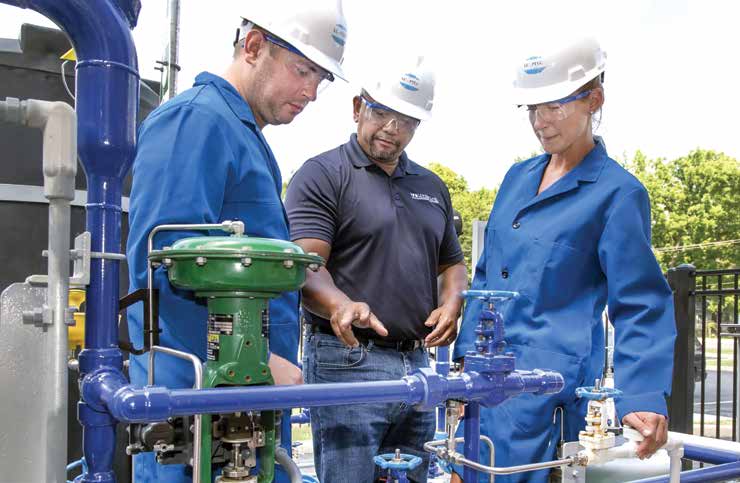 Bishop State Community College announced a new program offered to students called FAME on the Coast, a chapter of the Alabama Federation for Advanced Manufacturing Education (FAME).
FAME is an advanced manufacturing program providing technical, professional and hands-on skills for process operation technology. According to the organization's website, this program allows students to gain paid work experience while earning an associate's degree.
"With FAME comes the national recognition of being a sponsored program associated with the National Association of Manufacturing," said David Felton, Bishop State's dean of Applied and Career Technologies. "It has respect throughout the nation, which is a benefit to our students who earn nationally recognized certifications through this program. This program also teaches students about the workplace culture, which includes clocking in, ensuring safety throughout the day, the importance of working as a team and other soft skills incorporated into the program."
For Bishop State students, the new apprenticeship-style training program will provide students working experience as well as training in a classroom and lab setting while meeting the employment needs and challenges in advanced manufacturing.
Students at Bishop State will be offered an associate's degree in applied science in process operations technology, in which they learn about process operations, fundamentals of industrial hydraulics and pneumatics as well as principles in industrial mechanics, industrial pumps and piping systems.
"Listening and responding to the needs of business and industry are key to a successful economic development strategy," said Bridget Wilson, executive director of Southwest Alabama Workforce Development Council (SAWDC) Alabama Works! "FAME on the Coast has been designed by and for industry. The FAME program delivers a career pathway for individuals to create personal success as well as create a concrete workforce pipeline that allows us to grow and retain local talent."
FAME on the Coast is a partnership among Bishop State Community College, SAWDC and area businesses and industries. For more information and to apply, visit bishop.edu.
Click here to read the Business View – April 2022
Additional information is on the Mobile Area Chamber of Commerce's website at mobilechamber.com, on Facebook at @MobileChamber, Instagram at @themobilechamber and Twitter at @MobileChamber.
About the Mobile Chamber
The Mobile Chamber is a private business organization with more than 1,700 members and the economic developer for the City of Mobile and Mobile County. The Mobile Chamber's focus is to provide members with networking, marketing and professional development opportunities, expand jobs in the area, develop the local workforce, advocate legislative priorities and offer resources to help small businesses grow. Additional information is on the Chamber's website, Facebook, Instagram, LinkedIn, Twitter and YouTube.