Roto-Rooter Mobile – Making Plumbing Problems Go Away
Business View – March 2022 / Small Business of the Month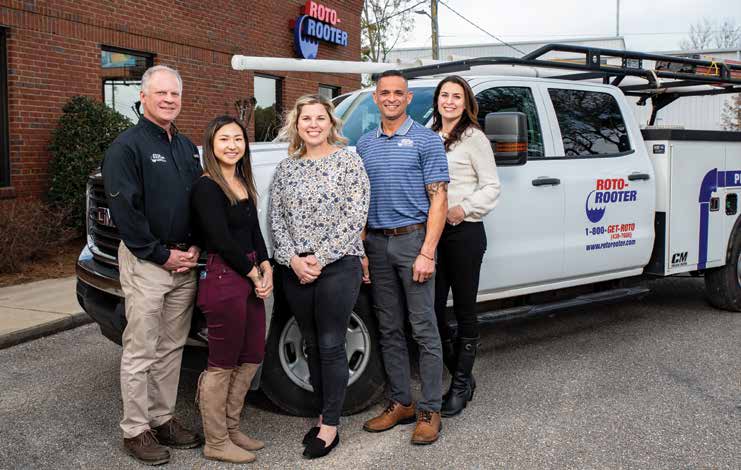 Roto-Rooter Mobile, part of the largest provider of plumbing and drain cleaning services company in North America, has been serving customers in Mobile, Baldwin and Washington counties for more than seven decades. Pictured from left to right is Greg Smith, president; Libby Smith, accounts payable and foodie; Hannah Smith, COO; Johnny Gonzalez, CFO; and Alivia Gonzalez, office manager. Photo by Mike Dumas.
For the Smith family, service isn't just a hallmark of being a good person, it's a birthright. It started in the 1950s, when Donald Smith could be found most days helping plumbers and customers from behind the counter at a local supply store. Then in the early '60s, Smith purchased the franchise rights to a new company touting revolutionary technology in plumbing.
He called his new venture Roto-Rooter Mobile, and the company's success wasn't just found in its advanced approach to clearing debris from aging clay or terra cotta pipes, but in how Smith cultivated referrals and created colleagues instead of direct competitors. When a plumber would arrive on scene and diagnose an issue within a pipe, Roto-Rooter was their first call, and Smith would reciprocate.
"My dad definitely had an awesome personality, and you'd like him as soon as you met him, but the product basically sold itself," said Greg Smith, Donald's son and the current president of Roto-Rooter Mobile.
When their father passed away at age 54, Greg and his brother Chris took over the budding company. A few years later Greg assumed sole ownership and his brother became the owner and president of the firm's now-separate industrial division, Smith Industrial Service (SIS). From chemical plants to other industrial concerns, SIS handles those contracts while Roto-Rooter Mobile takes on the rest.
That level of diversification has become a primary attribute of Roto-Rooter's success in the market, as the company has expanded its expertise to cover services such as leak detection, backflow prevention and the kind of sewer and water line repair that the elder Smith used to refer to other plumbers. Now, it's right in Roto-Rooter's wheelhouse.
"Now that we have the equipment to do it, we just dig it up and fix it," Greg Smith said. "And the customers are very happy for us to do that because they want the problem solved."
The company is also expanding its water cleanup efforts, which include water damage restoration, sewage and water damage cleanup, as well as mold prevention and remediation. It's all part of Smith's Win-Win-Win philosophy.
"The company wins, the employee wins and the customer wins," he said.
After being founded in 1962, it took about eight years for Roto-Rooter Mobile to move out of the Smith family home, where Greg's mother would answer business calls on the family's rotary phone. The company opened its first true headquarters in 1970, and now Roto-Rooter and SIS share an expansive building on the I-65 Beltline.
Roto-Rooter Mobile currently has more than 50 employees, two of which are helping ensure the trusted institution continues into a third generation of the Smith family. Greg Smith's two daughters are key parts of the company's management team with Libby Smith handling the accounting and Hannah Smith serving as the chief operating officer.
"It's an honor and a privilege to be able to serve the Mobile, Baldwin and Washington County areas," Greg Smith said. "It means so much to us to do that every single day."
"People are very appreciative that we're able to provide a service that makes problems go away."
COMPANY NAME: Roto-Rooter Plumbing Service
OWNER: Greg Smith
WEBSITE: rotorootermobile.com
PHONE: 251.479.9454
LENGTH OF CHAMBER MEMBERSHIP: 40 years
Click here to read the Business View – March 2022
Additional information is on the Mobile Area Chamber of Commerce's website at mobilechamber.com, on Facebook at @MobileChamber, Instagram at @mobile-area-chamber and Twitter at @MobileChamber.
About the Mobile Chamber
The Mobile Chamber is a private business organization with more than 1,700 members and the economic developer for the City of Mobile and Mobile County. The Mobile Chamber's focus is to provide members with networking, marketing and professional development opportunities, expand jobs in the area, develop the local workforce, advocate legislative priorities and offer resources to help small businesses grow. Additional information is on the Chamber's website, Facebook, Instagram, LinkedIn, Twitter and YouTube.