Mobile River Bridge and Bayway Project Moves Forward
Business View – March 2022 / Business News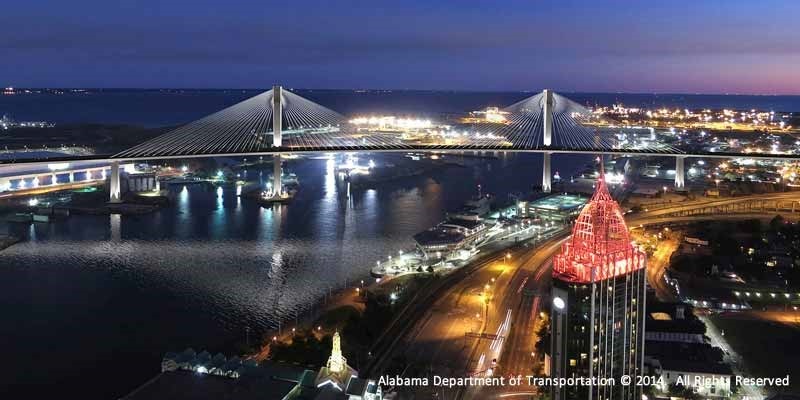 New plans for the I-10 bridge project are gaining momentum with support from the Alabama Department of Transportation (ALDOT).
In a letter to the leaders of the Mobile and Eastern Shore Metropolitan Planning Organizations (MPO), ALDOT Director John Cooper expressed his support for its framework to build a new bridge along Interstate 10. He also committed at least $250 million to the project, a significant investment that is in line with other major infrastructure projects across the state of Alabama.
Mobile Mayor Sandy Stimpson says "support from the state of Alabama is critical to moving this project forward and to setting our region of the state up for long-term success. We know that without action, we risk losing millions of dollars of existing federal funding as our traffic problems continue to get worse. We are looking forward to continuing our work with our local, state and federal partners to turn this framework into a final plan."
Support from the state of Alabama is critical to moving this project forward and to setting our region of the state up for long-term success."
Sandy Stimpson, Mayor, City of Mobile
This letter of support comes after both MPOs put their unanimous support behind a framework for the Mobile River Bridge and Bayway that would complete the project within five years and maintain numerous free routes across the bay.
Cooper's letter outlines several key parameters for the plans: ▪ ALDOT recommends a comprehensive plan that should be completed in five years, including a new six-lane Mobile River Bridge, a new Bayway built to current safety and longevity standards, and appropriate interchanges in Mobile and Baldwin counties.
▪ The plan must include free, no-toll options to cross Mobile Bay, keeping the Causeway, the Cochrane-Africatown Bridge and the Wallace and Bankhead tunnels free.
▪ ALDOT anticipates a plan to fund all new construction using at least $250 million in state funding, $125 million in federal funding and a toll that won't exceed $2.50 for passenger vehicles using the new infrastructure. They would work with the MPOs to develop a flat rate toll for frequent business and personal travel.
▪ Revenue from the project and any new federal or state funding that may become available in the future will be applied to pay off the debt for this project only, and all tolls will end when the debt is paid.
▪ All new infrastructure will be owned by the state and the project will not include any private concessionaires.
Cooper has tasked ALDOT Chief Engineer Edward N. Austin and Southwest Region Engineer Matt Ericksen with developing a detailed plan. Their team is working on updated environmental documents as well as traffic and revenue studies necessary to create a detailed financing plan. The next step is for the two MPOs to consider ALDOT's plan.
Click here to read the Business View – March 2022
Additional information is on the Mobile Area Chamber of Commerce's website at mobilechamber.com, on Facebook at @MobileChamber, Instagram at @mobile-area-chamber and Twitter at @MobileChamber.
About the Mobile Chamber
The Mobile Chamber is a private business organization with more than 1,700 members and the economic developer for the City of Mobile and Mobile County. The Mobile Chamber's focus is to provide members with networking, marketing and professional development opportunities, expand jobs in the area, develop the local workforce, advocate legislative priorities and offer resources to help small businesses grow. Additional information is on the Chamber's website, Facebook, Instagram, LinkedIn, Twitter and YouTube.