Sarralle Opens New Mobile Headquarters
Business View – February 2022 / Business News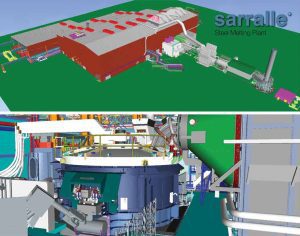 With locations in more than nine countries worldwide, SARRALLE announced the opening of a new U.S. headquarters in Mobile. The company's new Mobile office will oversee operations in Alabama, Virginia and Pennsylvania. Initially, the company plans to start with 850 square feet of offices and then to grow through 2025.
Founded in 1965, and with more than 50 years' experience on international projects, SARRALLE is a global industrial engineering and steel company boasting more than 650 employees worldwide.
According to the company, the new headquarters will strengthen SARRALLE's presence in the country and support its expansion by enhancing its team with wider heads of sales, site managers, project managers, site engineers, R&D engineers and more, for the four divisions of SARRALLE: steel melting plant, rolling mill, coil processing lines and energy and environment.
The company's locating in Mobile and new steel melting plant is a result of its contract with AM/NS Calvert.
SARRALLE chose Mobile to settle its headquarters because of its strategic geographical location, the existing airport connections, its ninth largest port by tonnage in the United States, the skilled workforce in a right-to-work state and the economic growth and development that Alabama has been experiencing.
"This new announcement and headquarters in the Mobile area strengthen the steel industry and show the great work by Team Mobile in attracting companies like SARRALLE here," said David Rodgers, the Mobile Area Chamber's vice president of economic development.
Click here to read the Business View – February 2022
Additional information is on the Mobile Area Chamber of Commerce's website at mobilechamber.com, on Facebook at @MobileChamber, Instagram at @mobile-area-chamber and Twitter at @MobileChamber.
About the Mobile Chamber
The Mobile Chamber is a private business organization with more than 1,700 members and the economic developer for the City of Mobile and Mobile County. The Mobile Chamber's focus is to provide members with networking, marketing and professional development opportunities, expand jobs in the area, develop the local workforce, advocate legislative priorities and offer resources to help small businesses grow. Additional information is on the Chamber's website, Facebook, Instagram, LinkedIn, Twitter and YouTube.