Business Resources at the Mobile Public Library
Business View – February 2022 / Member Spotlight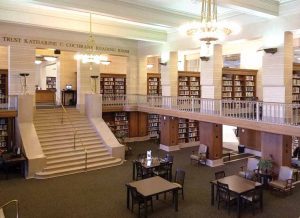 The Mobile Public Library serves the citizens of the city of Mobile and Mobile County with 11 locations and a bookmobile. The library circulated more than 1.2 million physical and digital items and welcomed more than 468,000 visitors in 2020.
The Mobile Public Library System has a wealth of resources for the business community. Here is a sampling of what the library has to offer:
Connection Center
The Library Connection Center offers valuable business databases and tools for local companies and job seekers. Library card holders can access directories of business plans, legal forms, market research and industry profiles directly from the library website.
Job seekers have dedicated space on the second floor of the Ben May Main Library to use computers and printers to create resumes. The library also offers resume templates and job search assistance.
"Our staff is trained to provide support such as mock interviews, resume help, creating business plans and utilizing our databases for market research," said Library Director Margie Calhoun.
Universal Class
The library's Universal Class is available online to help teach new skills that apply to any career interest. It includes more than 500 online courses on everything from marketing to accounting and office skills. Many of the courses also offer CEU credits.
Maker Lab
Library cardholders have access to state-of-the-art technology tools in the Maker Lab such as the Prusa i3 MK3 3D Printer for creating prototypes and models. The library also has a Cricut Explore Air 2 cutting machine and EasyPress heat press for making logos, shirts, bags and more.
Meeting Rooms
The Mobile Public Library has meeting room space available at each branch for public use. Ben May Main Library also has Bernheim Hall, which seats 230 with a stage and balcony area. To reserve a room or more information about capacity at each location, visit the library's website.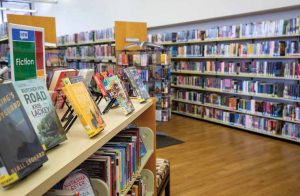 Evening hours are back at each Mobile area location. The West Regional Library and Ben May Main Library are open until 8 p.m. Monday through Thursday. Additional library locations offer at least one evening per week that they remain open until 7 p.m. or later.
"Evening hours give those working 9 to 5 more opportunities to visit the library and check out books, use our computers and free WiFi, conduct research and just relax and unwind in a peaceful environment," said Calhoun.
For more information on any of these resources, visit mobilepubliclibrary.org.
Click here to read the Business View – February 2022
Additional information is on the Mobile Area Chamber of Commerce's website at mobilechamber.com, on Facebook at @MobileChamber, Instagram at @mobile-area-chamber and Twitter at @MobileChamber.
About the Mobile Chamber
The Mobile Chamber is a private business organization with more than 1,700 members and the economic developer for the City of Mobile and Mobile County. The Mobile Chamber's focus is to provide members with networking, marketing and professional development opportunities, expand jobs in the area, develop the local workforce, advocate legislative priorities and offer resources to help small businesses grow. Additional information is on the Chamber's website, Facebook, Instagram, LinkedIn, Twitter and YouTube.