Austal USA Receives Ship Contract
Business View – February 2022 / Business News
Austal USA Receives Ship Contract, Uses Steel From SSAB on New Construction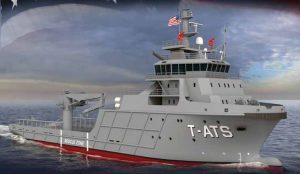 In late 2021, the U.S. Navy awarded Austal USA a $145 million two-ship Towing, Salvage and Rescue Ship (T-ATS) detailed design and construction contract. This contract award marks the first new steel ship construction program for the company.
"The Austal USA team is excited to get to work on this program and leverage our new steel manufacturing line to support the U.S. Navy's and U.S. Coast Guard's requirements for steel ships," said Austal USA President Rusty Murdaugh. "Our consistent on-budget and on-schedule delivery of quality ships continues to lead the industry. Our highly skilled workforce prides itself on maintaining the excellence our customers have come to know and expect from Austal."
T-ATS will provide ocean-going tug, salvage and rescue capabilities to support U.S. fleet operations and will be a multi-mission, common hull platform capable of towing heavy ships. These ships will be able to support current missions, including oil spill response, humanitarian assistance and wide-area search and surveillance. The platform also enables future capability initiatives like modular payloads with hotel services and appropriate interfaces.
Following this award, Austal contracted with local Alabama steel provider SSAB to provide steel for the new Navy ships. The supplier partnership directly supports hundreds of jobs in the greater Mobile area from both Austal and SSAB.
Austal will source various strength and sized steel plating from SSAB capable of being cut, shaped, welded and fitted, resulting in the construction of valuable support ships and potential combat ships for the U.S. military.
"SSAB not only provides us with quality steel, but also great flexibility due to its location adjacent to us here in Mobile," Murdaugh said. "The ability to work quickly and in person with them on current and future steel requirements by the U.S. Navy and Coast Guard is an asset to Austal that will support our business and economic growth in our community."
"Austal USA is a respected and valued partner to SSAB Americas," said SSAB Americas Senior Vice President and Chief Commercial Officer Jeff Moskaluk. "Our participation in such an important and vital project, that will strengthen both the economic and national security of our country, makes this partnership even more meaningful. We are proud to work closely with Austal USA and demonstrate the service, quality and value that is delivered from an interconnected and local supply chain here in Alabama."
"This partnership between two major industries in the Mobile area shows how diverse our industries are and how they can work together to bring jobs and more industry to south Alabama," said David Rodgers, the Mobile Area Chamber's vice president of economic development.
Click here to read the Business View – February 2022
Additional information is on the Mobile Area Chamber of Commerce's website at mobilechamber.com, on Facebook at @MobileChamber, Instagram at @mobile-area-chamber and Twitter at @MobileChamber.
About the Mobile Chamber
The Mobile Chamber is a private business organization with more than 1,700 members and the economic developer for the City of Mobile and Mobile County. The Mobile Chamber's focus is to provide members with networking, marketing and professional development opportunities, expand jobs in the area, develop the local workforce, advocate legislative priorities and offer resources to help small businesses grow. Additional information is on the Chamber's website, Facebook, Instagram, LinkedIn, Twitter and YouTube.