USA EXPANDS ITS 3D LAB WITH PURCHASE OF NEW PRINTERS
Business View – December 2021/January 2022 / Business News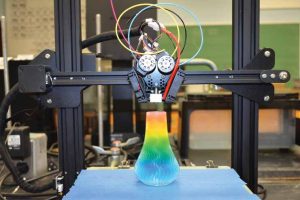 The University of South Alabama is purchasing several mid-range 3D printers, including a metal printer and several smaller ones.
The expanded lab will help build university and industry partnerships and greatly benefit researchers university-wide, according to Dr. Matthew Reichert, assistant vice president in the office of research communications.
"Collaborations with local industry will provide support for prototyping objects to inspect before production, as well as provide production-quality objects for testing before full implementation," he said.
In addition, students are "being trained on some of the latest equipment and software for additive manufacturing," he said. Additive manufacturing, also known as 3D printing, is the process of creating an object by depositing material layer by layer to build up the object. In contrast, subtractive manufacturing is the process where material is removed until the desired object is produced, i.e. sculpting, lathe-turning and milling. The majority of the funds for the new printers came from a CARES Act Recovery Assistance grant, along with contributions from the university.
This project was made possible by regional planning efforts led by the South Alabama Regional Planning Commission. The university also had letters of support for their proposal from numerous local companies including Arkema, Airbus, Austal USA, Continental Motors and Evonik.
Click here to read the Business View – December 2021/January 2022
Additional information is on the Mobile Area Chamber of Commerce's website at mobilechamber.com, on Facebook at @MobileChamber, Instagram at @mobile-area-chamber and Twitter at @MobileChamber.
About the Mobile Chamber
The Mobile Chamber is a private business organization with more than 1,700 members and the economic developer for the City of Mobile and Mobile County. The Mobile Chamber's focus is to provide members with networking, marketing and professional development opportunities, expand jobs in the area, develop the local workforce, advocate legislative priorities and offer resources to help small businesses grow. Additional information is on the Chamber's website, Facebook, Instagram, LinkedIn, Twitter and YouTube.