OUTSTANDING ENTREPRENEUR: MICHAEL CHAMBERS
Business View – December 2021/January 2022 / Cover Story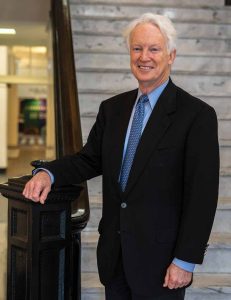 As a young man attending The University of Alabama, to make ends meet Michael Chambers once bought 100 small refrigerators and rented them to his fellow students. Around that same time, he also helped manage apartment complexes, and bartering services that ranged from rent collecting to swimming pool cleaning to put a roof over his head.
His industrious spirit was well earned and, eventually, properly rewarded, resulting in decades of success as a businessman, community activist and educator. Originally from Anniston, Chambers has dedicated his time and talents to south Alabama, creating both private-sector businesses and opportunities for marginalized entrepreneurs — adding tensile strength to the area's business community.
He is currently associate vice president of research at the University of South Alabama (USA), and has been named the Mobile Area Chamber's 2021 Outstanding Entrepreneur.
Chambers understands the value of collaboration, encouragement and hard work — and has the scars to prove it. These scars, he said, help guide others away from similar pitfalls.
"I have made a lot of mistakes in business," he said. "One of the things that I think helps this area, which I love, is educating people on how to avoid problems, issues and mistakes early on."
Early in his career, Chambers sought to invest in multiple ventures at a time, which was a double-edged sword in that it could create and mitigate risk within his portfolio. Often, his instincts bore out, which led him to create or co-create companies such as InnoRx Pharmaceuticals, which delivers ocular drugs, and Swift Biotech, a company that's working on the detection of early-stage endometrial and ovarian cancer.
Now, Chambers' strategy of investment tends to target people, instead of industry. A longtime mentor, since 2017 he has led the National Science Foundation's Innovation Corps (I-Corps) program at USA, which funds innovative, team-based entrepreneurship with other area small business resource partners. He helped create USA's Minority Business Accelerator and is also the executive director of the RAMP small business mentoring program. Licensed to the college by MIT, RAMP currently serves 16 local companies.
When Chambers connects with his mentees, he's not only looking to help them with what they don't know, but also "what they don't know they don't know."
"The key is being open to other people's ideas," he said. In 2014, Chambers served as the chairman of the Mobile Area Chamber's board of directors. During his term, he not only stressed mentorship but also entrepreneurial training, which led to the creation of the 1702 program for young professionals.
"Both an innovator and mentor, Michael Chambers embodies the spirit of what the Outstanding Entrepreneur award was meant to celebrate," said Bob Chappelle, the Mobile Area Chamber's interim president and CEO. "Not only has he started two companies, he continues to look for ways to help other entrepreneurs build their businesses.
"And he does so by bringing others into the fold who offer their expertise, creating a series of partnerships that will make an impact on Mobile's business community for decades to come." Chambers has tremendous enthusiasm for that community, and in particular sees the value in its inter-organizational logistics, which help court, and land, major industrial investments and relocations in the area.
"You can make one phone call and everybody you need to collaborate on a project will be in the room, from the Chamber, city council and the county commission, to the mayor's office and universities," Chambers said. "Everyone comes together, and that's really true of the entrepreneur ecosystem here."
"Everyone wants to collaborate and make things work."
Chambers is the executive director of Coastal Conversations, a platform for increased civic awareness and regional engagement. Recently, the group held a conversation with former Pittsburgh Mayor Tom Murphy (pictured on the left with Chambers), who discussed pathways for communities looking to grow and prosper.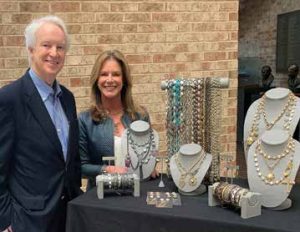 Jewelry designer and owner of Harvest Jewels Rosemary Corte had a chance to meet with Michael Chambers, who leads the RAMP program she participated in last year. Corte told him the program was invaluable to her business operations during the COVID pandemic. She said it saved her business.
Click here to read the Business View – December 2021/January 2022
Additional information is on the Mobile Area Chamber of Commerce's website at mobilechamber.com, on Facebook at @MobileChamber, Instagram at @mobile-area-chamber and Twitter at @MobileChamber.
About the Mobile Chamber
The Mobile Chamber is a private business organization with more than 1,700 members and the economic developer for the City of Mobile and Mobile County. The Mobile Chamber's focus is to provide members with networking, marketing and professional development opportunities, expand jobs in the area, develop the local workforce, advocate legislative priorities and offer resources to help small businesses grow. Additional information is on the Chamber's website, Facebook, Instagram, LinkedIn, Twitter and YouTube.