CHAMBER-RECRUITED MTC LOGISTICS HOLDS OPENING CELEBRATION
Business View – December 2021/January 2022 / Business News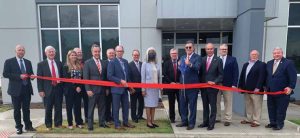 MTC Logistics ribbon cutting at its refrigerated cargo facility in Mobile featured local government officials, company executives and local partners.
In late October, Baltimore-headquartered MTC Logistics cut the ribbon on its refrigerated cargo facility in Mobile, a project previously recruited by the Mobile Area Chamber and Team Mobile. The company recently completed a $61 million investment and is in the process of adding 75 new jobs to the area.
MTC broke ground in 2019 on what is now one of the largest distribution centers of its kind in the country, designed to provide shippers with seamless supply chain solutions focused on global commerce.
"Before the doors on the new MTC Logistics facility were open in Mobile, the company drew Ren Seafoods to the area," said David Rodgers, the Chamber's vice president of economic development. "It is one sign of how much this investment is needed along the central Gulf Coast."
Earlier this year, Ren Seafoods announced a seafood processing facility and distribution hub in Mobile to be near MTC Logistics. MTC President Andy Janson said he believes the timing is critical for the Mobile facility's opening and addressed what the future holds.
"The supply chain, and more importantly the perishable food supply chain, is front-page news these days, and our timing to develop an out-of-the-box solution for this sector of the nation's food supply chain in partnership with the Mobile community is very rewarding," said Janson. "Our optimism is so strong at this point we are already in discussion about a significant expansion, which will only add additional jobs and opportunities in this wonderful community."
"The expansion to Mobile is helping MTC serve a valued long-term customer who needed a port location to service their southeastern customers," said Harry Halpert, chairman of MTC Logistics and CEO of Hoffberger Holdings LLC, the parent company of MTC Logistics.
"Mobile's 'find a yes" attitude, which pervades local government and its business community, fits well with MTC's service-oriented culture," Halpert added.
"MTC's cold storage distribution facility adds a new dimension to the expanding operations at the Port of Mobile," said Greg Canfield, Alabama Secretary of Commerce.
Consumers throughout the Southeast will see these products on their dining room table, and the new Mobile facility will help lower transportation costs and assure ready availability, according to MTC officials.
Click here to read the Business View – December 2021/January 2022
Additional information is on the Mobile Area Chamber of Commerce's website at mobilechamber.com, on Facebook at @MobileChamber, Instagram at @mobile-area-chamber and Twitter at @MobileChamber.
About the Mobile Chamber
The Mobile Chamber is a private business organization with more than 1,700 members and the economic developer for the City of Mobile and Mobile County. The Mobile Chamber's focus is to provide members with networking, marketing and professional development opportunities, expand jobs in the area, develop the local workforce, advocate legislative priorities and offer resources to help small businesses grow. Additional information is on the Chamber's website, Facebook, Instagram, LinkedIn, Twitter and YouTube.