CHAIRMAN'S NOTE
Terry Harbin, Chamber Board Chair
Editor's Note: Harbin has chaired the Mobile Area Chamber's board of directors since January 2020.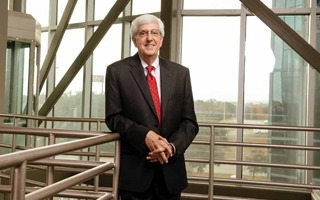 As the saying goes, "the more things change, the more they stay the same." That has been true in much of my life and work experience and the same can be said for Chamber Chase, the annual 16-week total resource campaign to help fund events and activities held each year by our Mobile Area Chamber.
It was 10 years ago in May of 2011 that I had the opportunity to lead Chamber Chase. Its importance to the Chamber and the funding of our economic development activities has only increased each year. The campaign accounts for roughly one-third of our annual budget and that is significant. We have great volunteer leadership that gives up 16 weeks of their lives to follow every instruction "CG" gave to make the campaign a success. I couldn't mention volunteer leadership without a huge shout-out to Melissa Cross, who led us two years in a row, setting the bar high for our next Chamber Chase leader.
No article on Chamber Chase would be complete without saying a big THANK YOU to Carolyn Golson who has kept us all on track for the last 33 years. CG, we wish you all the best in your upcoming retirement. You will be missed!
Click here to read the Business View – November 2021
Additional information is on the Mobile Area Chamber of Commerce's website at mobilechamber.com, on Facebook at @MobileChamber, Instagram at @mobile-area-chamber and Twitter at @MobileChamber.
About the Mobile Chamber
The Mobile Chamber is a private business organization with more than 1,700 members and the economic developer for the City of Mobile and Mobile County. The Mobile Chamber's focus is to provide members with networking, marketing and professional development opportunities, expand jobs in the area, develop the local workforce, advocate legislative priorities and offer resources to help small businesses grow. Additional information is on the Chamber's website, Facebook, Instagram, LinkedIn, Twitter and YouTube.