KEMIRA COMPLETES EXPANSION INVESTMENT IN NORTH AMERICA
Business View – September 2021 / Business News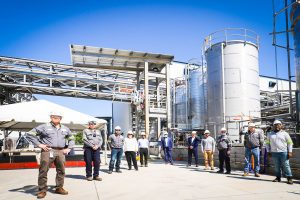 Kemira recently completed a $70.8 million expansion at its Mobile facility. Based in Finland with its American headquarters in Atlanta, the company is a leading global polymer producer serving the pulp and paper, oil and gas, and water treatment industries.
Officials say the latest investment will support Kemira's strategic focus to grow faster than the market.
"The capacity expansion in Mobile will strengthen Kemira's position in the energy market in the Americas and support our growth in the region going forward," said Pedro Materan, senior vice president of Kemira's global oil and gas division.
"The market demand is recovering after the 2020 slowdown, and we're in a good position and excited to meet the growing demand of our customers for high-quality emulsion polymers."
Emulsion polymer products are primarily used in water intensive applications, including the oil and gas industry, where Kemira is a leading supplier.
The Mobile Area Chamber announced the project with Kemira officials in February 2019, with an anticipated operational date in 2021.
"The sustained growth in our manufacturing sector continues to secure and add high-paying jobs in our community, and is a signal to other international companies that Mobile is a business-friendly environment," said David Rodgers, the Mobile Area Chamber's vice president of economic development.
Click here to read the Business View – September 2021
 Additional information is on the Mobile Area Chamber of Commerce's website at mobilechamber.com, on Facebook at @MobileChamber, Instagram at @mobile-area-chamber and Twitter at @MobileChamber.
About the Mobile Chamber
The Mobile Chamber is a private business organization with more than 1,700 members and the economic developer for the City of Mobile and Mobile County. The Mobile Chamber's focus is to provide members with networking, marketing and professional development opportunities, expand jobs in the area, develop the local workforce, advocate legislative priorities and offer resources to help small businesses grow. Additional information is on the Chamber's website, Facebook, Instagram, LinkedIn, Twitter and YouTube.