COCA-COLA BOTTLING CO. UNITED EXPANDING MOBILE FACILITY
Business View – May 2021 / Business News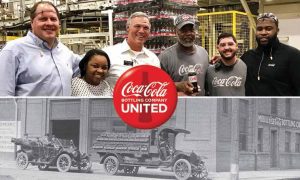 This summer, Coca-Cola Bottling Co. United (UNITED) will begin expanding its current facility in Mobile, adding 120,000 square feet to optimize its distribution operations and install a state-of-the-art warehousing system.
Officials of the Birmingham-based company recently announced the $48 million investment to help meet the growing demands of customers along the Gulf Coast. By year's end, once the project is complete, the company expects to add 15 jobs.
Today, the local facility produces more than 13 million cases annually and serves some 3,300 customers, according to the company.
"With this larger and more innovative facility, we will create an enhanced working environment for our associates and provide a higher level of service for our customers and communities along the Gulf Coast for decades to come," said Coca-Cola UNITED President and CEO John Sherman.
The 119-year-old company is the second largest privately held Coca-Cola bottler in North America, according to company officials. Coca-Cola UNITED has approximately 10,000 associates located in more than 60 facilities across six Southeastern states, including approximately 300 in Mobile.
"Coca-Cola Bottling is a longtime member of our community, and we are happy they chose Mobile for this significant investment. We can't wait to see what they do in the next 100 years," said David Rodgers, the Mobile Area Chamber's vice president of economic development.
The expansion is the latest chapter in a storied history between the company and Mobile. The territory, first owned by Coca-Cola UNITED founder Crawford Johnson Sr. of Birmingham, was purchased by brothers Walter and Will Bellingrath in 1903. More than a century later, in 2017, Coca-Cola UNITED again acquired the territory as part of a transformation that saw the company more than triple in size.
AT A GLANCE
COCA-COLA CO. UNITED
CAPITAL INVESTMENT: $48 million
JOBS: 15
TIMELINE: Construction to begin this summer
Click here to read the Business View – May 2021
Additional information is on the Mobile Area Chamber of Commerce's website at mobilechamber.com, on Facebook at @MobileChamber, Instagram at @mobile-area-chamber and Twitter at @MobileChamber.
About the Mobile Chamber
The Mobile Chamber is a private business organization with more than 1,700 members and the economic developer for the City of Mobile and Mobile County. The Mobile Chamber's focus is to provide members with networking, marketing and professional development opportunities, expand jobs in the area, develop the local workforce, advocate legislative priorities and offer resources to help small businesses grow. Additional information is on the Chamber's website, Facebook, Instagram, LinkedIn, Twitter and YouTube.