AUSTAL INVESTS IN STEEL PRODUCTION
Business View – May 2021 / Business News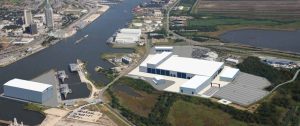 In late March, Austal USA's latest groundbreaking marked the start of a new era. The company began construction on its steel manufacturing line, helping ensure Austal will remain a major contributor to the U.S. shipbuilding industry.
The company is investing roughly $109 million in the project to meet the emerging U.S. military demand for steel ships and preserve its thousands of jobs and the business it conducts with hundreds of local suppliers. If all goes as expected, the company will start building steel vessels in April 2022.
Last fall, the U.S. Department of Defense released details on a $50 million agreement with Austal granted through the CARES Act (Coronavirus Aid, Relief and Economic Security).
The new facility, along with a new assembly structure, will be built on the current property.
"As demand for the greater and larger Navy and Coast Guard fleets grows, Austal USA is investing to meet those changing requirements," said Rusty Murdaugh, interim president. "We're investing in our people, we're investing in our processes and we're investing in our facilities and capabilities."
"This world-class steel manufacturing line is a treasure for the Gulf Coast, the U.S. Navy and the U.S. Coast Guard that will provide a much-needed boost to the defense industrial base and our nation's defense," said U.S. Rep. Jerry Carl.
"Austal is Alabama's largest defense contractor, Mobile's largest industrial employer and one of the best corporate citizens in our community. This next step not only sets them up for future contracts – it is a move to retain the thousands of high-paying jobs we have here. Austal's economic impact continues to grow and benefit Mobile," said David Rodgers, the Mobile Area Chamber's vice president of economic development.
Recently, the company announced it is expanding its service and repair business in Mobile to support increasing customer demand in that sector as well.
AT A GLANCE
AUSTAL USA
CAPITAL INVESTMENT: $109 million
TIMELINE: Under construction; operational in 2022
Click here to read the Business View – May 2021
Additional information is on the Mobile Area Chamber of Commerce's website at mobilechamber.com, on Facebook at @MobileChamber, Instagram at @mobile-area-chamber and Twitter at @MobileChamber.
About the Mobile Chamber
The Mobile Chamber is a private business organization with more than 1,700 members and the economic developer for the City of Mobile and Mobile County. The Mobile Chamber's focus is to provide members with networking, marketing and professional development opportunities, expand jobs in the area, develop the local workforce, advocate legislative priorities and offer resources to help small businesses grow. Additional information is on the Chamber's website, Facebook, Instagram, LinkedIn, Twitter and YouTube.