REN SEAFOODS ANNOUNCES NEW OPERATIONS IN MOBILE
Business View – April 2021 / Business News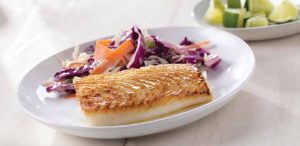 Ren Seafoods recently announced plans to build a seafood processing facility and distribution hub in Mobile. The company's decision to invest and locate in Mobile was prompted by their partnership with MTC Logistics, who will open a 300,000-square-foot cold storage facility across from APM Terminals later this year.
"We are following their path and its vicinity allows us to combine product deliveries to have a unique logistics operation," said Javier Infante, CEO of Ren Seafoods. "In addition, there is high-quality, local seafood in this region that we will be able to access for our customer base."
It was the second economic development announcement made by the Mobile Area Chamber recently. "This project further cements Mobile as a prime location for logistics and warehousing," said David Rodgers, the Mobile Area Chamber's vice president of economic development.
At press time, Ren Seafoods was under contract to purchase the old Smith's Bakery building on the west I-65 service road for its new facility, expected to be complete later this year, investing $12.4 million in the project. As the company is ramping up operations, it will hire 50-plus employees.
"Most national seafood companies are concentrated in New England, Miami, Seattle, etc. We are creating a hub for seafood distribution covering the Southern region," said Infante. Brooks Royster, vice president of international supply chain solutions for MTC Logistics, said Ren Seafoods is the first customer to come to Mobile to be near this facility. "It is further testament to Mobile being successful as a logistics hub and able to attract new international players."
Royster added he expects other companies will follow suit.
AT A GLANCE
REN SEAFOODS
KEY PARTNER: MTC Logistics
CAPITAL INVESTMENT: $12.4 million
JOBS: 54, with an average annual pay of $40,000
TIMELINE: Operational in 2021
Click here to read the Business View – April 2021
Additional information is on the Mobile Area Chamber of Commerce's website at mobilechamber.com, on Facebook at @MobileChamber, Instagram at @mobile-area-chamber and Twitter at @MobileChamber.
About the Mobile Chamber
The Mobile Chamber is a private business organization with more than 1,700 members and the economic developer for the City of Mobile and Mobile County. The Mobile Chamber's focus is to provide members with networking, marketing and professional development opportunities, expand jobs in the area, develop the local workforce, advocate legislative priorities and offer resources to help small businesses grow. Additional information is on the Chamber's website, Facebook, Instagram, LinkedIn, Twitter and YouTube.