MOBILE AREA CHAMBER FINALIZES RAY-MONT DEAL
Business View – April 2021 / Business News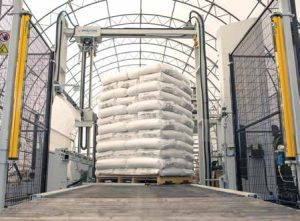 The Mobile Area Chamber announced recently Ray-Mont chose Mobile for a high-tech logistics park, its first in the South, thanks to a partnership with Alabama Export Railroad (ALE). There are 50 new jobs associated with the project. ALE will jointly operate the site near the Port of Mobile with Ray-Mont Logistics and provide rail transportation services in conjunction with Canadian National Railway Co.
Ray-Mont, an integrated asset-based logistics company headquartered in Montreal, Canada, will bag and transport plastic resin containers, initially to customers in Asia and Latin America.
The new operation is "good commercial strategy," said Jonathan Hebert, vice president of finance and corporate development with Ray-Mont Logistics.
Ray-Mont's trans loading method combined with proprietary technology will offer regional customers seamless collaboration in facilitating international containerized trade. Phase one of the project will include two bagging lines, and Ray-Mont plans to export 20,000 TEU (20-foot equivalent unit) shipping containers annually.
"Along with our core partners Canadian National and Ray-Mont Logistics, APM Terminals and Port of Mobile, we believe this project represents the first step toward the establishment of a multicommodity logistics hub, which will serve producers and global markets for decades to come," said Kate Luce, president and CEO of Alabama Export Railroad.
Hebert added the park's terminal will be operational in early 2022. "Our analysis based on projections and customer demand indicates that, at full capacity, the volume of additional TEUs moving through our site at the Port of Mobile could exceed five times what the first phase is expected to delivers," he said.
"The project is an example of how Mobile is a growing destination for distribution operations," said David Rodgers, vice president of economic development for the Mobile Area Chamber.
Ray-Mont currently has operations in Montreal, Vancouver and British Colombia, Canada, and Seattle, Wash.
AT A GLANCE
RAY-MONT LOGISTICS
KEY PARTNER: Alabama Export Railroad (ALE)
CAPITAL INVESTMENT: $15 million, plus another $4 million by ALE
JOBS: 50, with an average annual pay of $70,000
TIMELINE: Operational in 2022
Click here to read the Business View – April 2021
Additional information is on the Mobile Area Chamber of Commerce's website at mobilechamber.com, on Facebook at @MobileChamber, Instagram at @mobile-area-chamber and Twitter at @MobileChamber.
About the Mobile Chamber
The Mobile Chamber is a private business organization with more than 1,700 members and the economic developer for the City of Mobile and Mobile County. The Mobile Chamber's focus is to provide members with networking, marketing and professional development opportunities, expand jobs in the area, develop the local workforce, advocate legislative priorities and offer resources to help small businesses grow. Additional information is on the Chamber's website, Facebook, Instagram, LinkedIn, Twitter and YouTube.