OUTOKUMPU INVESTS IN CALVERT HEADQUARTERS
Business View – March 2021 / Business News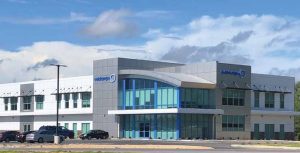 Outokumpu Stainless USA made two significant investments in Calvert, solidifying the future of the company's local operations.
A recently completed administration building is housing all the company's American leadership, from human resources to operations, and officially serves as Outokumpu's business division headquarters for the United States, Mexico, Brazil and Argentina.
The Finland-based company is also making a $43 million capital investment to create a new product line at Calvert, expected to more than double the company's current U.S. market share of ferritic stainless steel. This type of steel is widely used in automotive exhaust systems and household appliances.
"This investment is another nod of confidence in the capabilities of our Calvert operations," says Tamara Weinert, Outokumpu BA Americas president.
Together, the two projects are adding dozens of jobs.
"We are so proud to have this global company call Mobile its home for the Americas and look forward to future expansions as they grow their U.S. presence," says David Rodgers, the Mobile Area Chamber's vice president of economic development.
"Outokumpu's decision to expand its operations and locate its regional business division headquarters in Calvert shows the value of Mobile County's investments in supporting existing businesses and attracting new ones," says Mobile County Commission President Merceria Ludgood.
"We continue to prove Mobile is open for business when global companies like Outokumpu choose to locate in Mobile County and expand their footprint once they are here. This speaks to the quality of our local workforce as well as the support businesses receive from leadership at the state and local level," says Mobile Mayor Sandy Stimpson.
Outokumpu bought the stainless steel facility from ThyssenKrupp in 2013, and is a global leader in the industry.
Click here to read the Business View – March 2021
Additional information is on the Mobile Area Chamber of Commerce's website at mobilechamber.com, on Facebook at @MobileChamber, Instagram at @mobile-area-chamber and Twitter at @MobileChamber.
About the Mobile Chamber
The Mobile Chamber is a private business organization with more than 1,700 members and the economic developer for the City of Mobile and Mobile County. The Mobile Chamber's focus is to provide members with networking, marketing and professional development opportunities, expand jobs in the area, develop the local workforce, advocate legislative priorities and offer resources to help small businesses grow. Additional information is on the Chamber's website, Facebook, Instagram, LinkedIn, Twitter and YouTube.