City of Mobile Named Minority Business Advocate for 2020
Business View – November 2020 / Small Business Award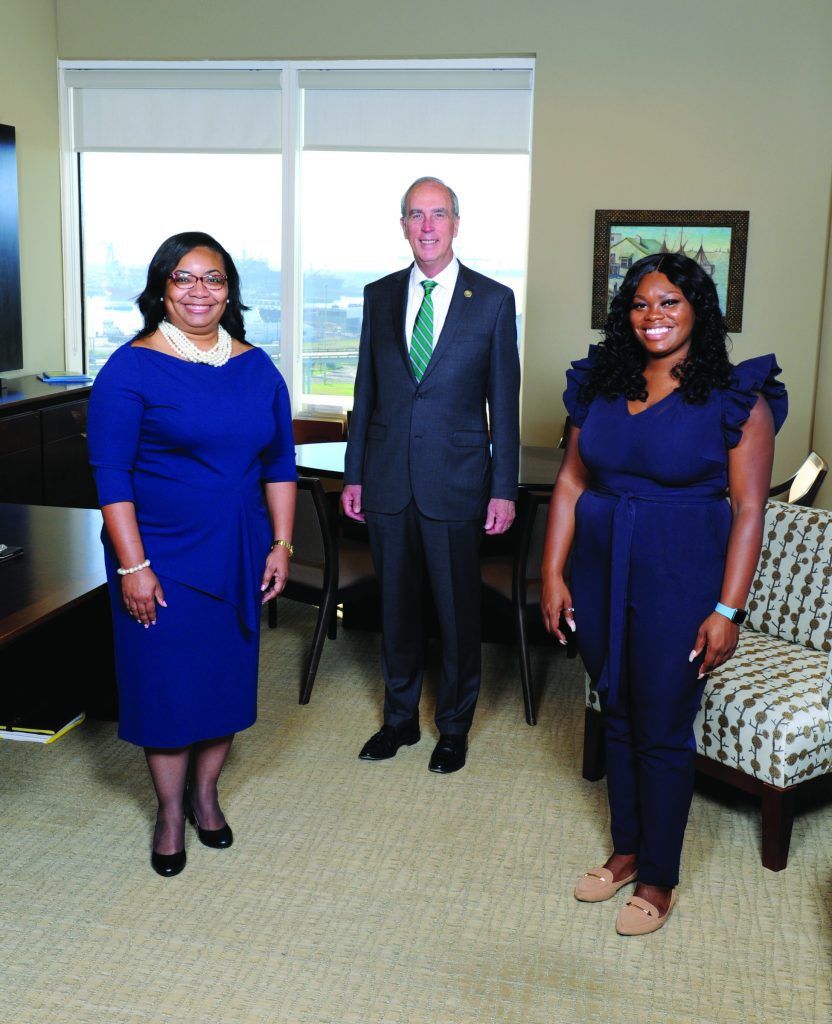 Archnique Kidd (left) leads the City of Mobile's office of supplier diversity, established by Mayor Sandy Stimpson (center). A newly hired assistant, Daphney Portis (right), contributes to the team's progress of employing more diverse companies.  Photo by Jeff Tesney Photography
Today, it's easier than ever to do business with the City of Mobile. While a number of new programs, policies and procedures are in place, what stands out are those that assist disadvantaged businesses and service-disabled Veteran-owned companies.
As a result, the city is hiring more of these types of businesses for contracted jobs such as landscaping, construction, mechanical work and more. Even its prime contractors are required to include at least 15 percent minority and/or service-disabled Veteran-owned companies.
For this work, the Mobile Area Chamber named the City of Mobile as its Rev. Wesley A. James Minority Business Advocate at the Eagle Awards in October.
A couple of key initiatives, beginning in 2016, paved the way for progress. First came the creation of the city's Office of Supplier Diversity. Archnique Kidd, who has a vast background in establishing supplier diversity programs in the public sector, was named manager.
"In the Office of Supplier Diversity, we are expanding economic opportunity for disadvantaged business by giving these businesses access to the procurement process and providing a framework to successfully do business with the city and other governmental agencies," says Mayor Sandy Stimpson. "Through these measures, we are encouraging job growth and business opportunity for all citizens in every area of our city, which is necessary for the City of Mobile to grow and thrive."
Tracking spending and breaking large projects into smaller projects also created more opportunities for small and disadvantaged business enterprises.
Mobile's blight program is specifically geared toward hiring small, minority-owned businesses to refurbish or demolish distressed houses. This initiative brought attention to the gap between companies AWARDS ready to start work and those needing additional education, licensing, bonding and insurance before they could be approved as a city contractor.
Kidd says the mind shift from "best effort" to "requirement" for all contracts over $250,000 has had the greatest impact.
"Our prime contractors and consultants know that we expect them to be intentionally inclusive when providing services for the City of Mobile and in their business practices," says Kidd.
This past summer, in the middle of the COVID-19 pandemic, the city rolled out a new website, workwith.cityofmobile.org, along with an interactive software program. These resources help prepare companies to competitively bid as well as outline needed certifications. (Read more about this initiative on page 8.)
"The city has the unique ability to nurture small businesses, which contributes directly to their likelihood of success and their ability to grow," says Darrell Randle, the Chamber's vice president of small business development. "The latest programs not only expand the city's supplier base, they help establish a bigger pool of minority-owned businesses for all contractors."
Click here to read the Business View – November 2020
Additional information is on the Mobile Area Chamber of Commerce's website at mobilechamber.com, on Facebook at @MobileChamber, Instagram at @mobile-area-chamber and Twitter at @MobileChamber.
About the Mobile Chamber
The Mobile Chamber is a private business organization with more than 1,700 members and the economic developer for the City of Mobile and Mobile County. The Mobile Chamber's focus is to provide members with networking, marketing and professional development opportunities, expand jobs in the area, develop the local workforce, advocate legislative priorities and offer resources to help small businesses grow. Additional information is on the Chamber's website, Facebook, Instagram, LinkedIn, Twitter and YouTube.