Bendpak Chooses Mobile – A 'Logistics Hotspot'
Business View – November 2020 / Business News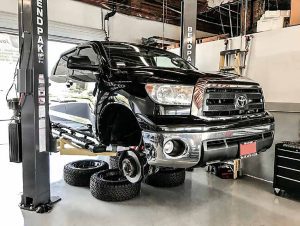 News that APM Terminals and the Port of Mobile gained another distribution center trickled out this summer, followed by plans for an immediate expansion.
Santa Paula, Calif.-based BendPak manufactures and sells automotive lifts used in car dealerships and parking garages. This summer, company officials announced the opening of a 100,000-square-foot distribution center in Theodore to serve U.S. Gulf, Midwest, East Coast and Canadian markets via Mobile's five Class I railroads. In September, company officials announced it would add another 70,000-square-foot warehouse adjacent to existing operations to enhance its East Coast presence.
Upon opening, company officials called Mobile the "heart of one of America's largest logistic hotspots."
"This new distribution center will enhance our ability to get our customers what they need, when they need it," said Jeff Kritzer, BendPak's executive vice president. "Today's consumer expects immediate delivery, and we're focused on helping that become a reality. The definition of Mobile is agile and transportable."
"Mobile's logistical assets continue to draw interest from companies looking to reach their customers faster and more efficiently," said David Rodgers, the Mobile Area
Click here to read the Business View – November 2020
Additional information is on the Mobile Area Chamber of Commerce's website at mobilechamber.com, on Facebook at @MobileChamber, Instagram at @mobile-area-chamber and Twitter at @MobileChamber.
About the Mobile Chamber
The Mobile Chamber is a private business organization with more than 1,700 members and the economic developer for the City of Mobile and Mobile County. The Mobile Chamber's focus is to provide members with networking, marketing and professional development opportunities, expand jobs in the area, develop the local workforce, advocate legislative priorities and offer resources to help small businesses grow. Additional information is on the Chamber's website, Facebook, Instagram, LinkedIn, Twitter and YouTube.