Three Area Businesses Named Finalists for the Mobile Area Chamber 2020 Small Business of The Year Award
The Business View – August 2020 / Small Business of the Year Finalist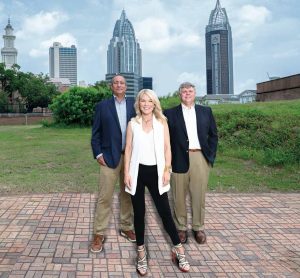 In the middle of the COVID-19 pandemic, the Mobile Area Chamber asked small business members to reflect on 2019 and nominate successful local companies for Small Business of the Year. From the nominations and applications, a volunteer panel experienced in management, finance and business development evaluated entries on a handful of criteria in the categories of:
▪ Business Operations and Impact
▪ Financial Position
▪ Innovation and Entrepreneurship
▪ Customer Service
▪ Market Strategy; and
▪ Community Involvement
At its June Board of Directors meeting, the Mobile Area Chamber recognized Calagaz Printing, JJPR and WaveFly Powered by JMF Solutions as finalists for its 2020 Small Business of the Year award. The winner will be announced on Thursday, Aug. 20.
The Chamber defines a small business as one with 100 employees or less, and this year's finalists have 18, 10 and 42 employees respectively.
---
Meet our finalists:
CALAGAZ PRINTING
President: Joe Calagaz
Founded: 1991
Number of employees: 18
Address: 3001 Mill St., Mobile
Website: calagazprinting.com
When Joe Calagaz joined the family business in 1991, he was asked what his contribution to the company would be. To make his mark, he started a printing division that was quickly established as its own operation.
Calagaz Printing is a full-service commercial print shop providing materials, signage, apparel and more to local businesses and the national restaurant market.
"Our largest customer segment is restaurant support materials, and a lot of their needs are related to ups and downs of the economy, social trends and government changes in regulations, and our sales reflect that volatility," says Calagaz.
Earlier this year, when the company's print production dropped to zero because of the coronavirus pandemic, Calagaz Printing pivoted to produce more than 180,000 face shields as a way to keep the current staff, maintain some revenue and serve the community.
---
JJPR
Founder and president: Jennifer Jenkins
Founded: 2010
Number of employees: 10
Address: 25895A Friendship Rd., Ste. C, Daphne
Website: jjpragency.com
In May 2010, Jennifer Jenkins made the bold move to leave the big agency world to create a life and career she loved. JJPR has grown from an upstart with one account to a boutique public relations, marketing and events firm.
The agency is dedicated to helping organizations, from nonprofits to small- and mid-sized companies to large businesses, tell their stories through every available communications platform. In addition to its core services, the JJPR team has expertise in research, advertising, branding, social media, email marketing and web development services.
"We believe just knowing the current trends isn't enough – you have to anticipate what will happen next," says Jenkins. "And the key to that is customized solutions using the right strategies to trigger influence of the brand from every angle and to every audience."
---
WAVEFLY POWERED BY JMF SOLUTIONS
Chairman & CEO: Mike Francis
Founded: 2005
Number of employees: 42
Address: 1008 Randall Ave., Daphne
Website: wavefly.com
Mike Francis, chairman and CEO, founded JMF Solutions in 2005 to meet the demand for a regional, reliable telecommunications firm. The company operates its own network helping ensure customers stay connected to business class broadband and receive award winning customer service.
With multiple data centers and offices throughout the United States, WaveFly provides residential communities, healthcare, banking, industrial and other service providers with managed network services, Fiber, Cloud, VoIP and IPTV (streaming television).
The company earned a spot on the Inc. 5000 list the past four years and stands at No. 12 on CRN's Fast Growth 150 list.
"We flip the leadership pyramid upside down. We really take care of our employees, who in turn take care of our clients and look for ways to give back to the community," says Francis.
Click here to read the Business View – August 2020
Additional information is on the Mobile Area Chamber of Commerce's website at mobilechamber.com, on Facebook at @MobileChamber and Twitter at @MobileChamber.
About the Mobile Chamber
The Mobile Chamber is a private business organization with more than 1,700 members and the economic developer for the City of Mobile and Mobile County. The Mobile Chamber's focus is to provide members with networking, marketing and professional development opportunities, expand jobs in the area, develop the local workforce, advocate legislative priorities and offer resources to help small businesses grow. Additional information is on the Chamber's website, Facebook, Instagram, LinkedIn, Twitter and YouTube.