INTERNATIONAL BUSINESS FUELS MOBILE'S ECONOMY
Business View – July 2020 / Publisher's Note
Bill Sisson, President & CEO, Mobile Area Chamber of Commerce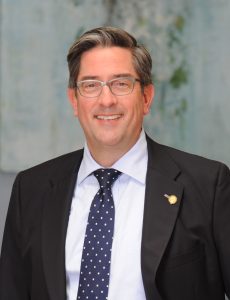 As a port city, Mobile's economy has always been tied to our deepwater port and the trade it provides. International business and trade have never been as important to our future growth as they are now.
Continuing to reach beyond our borders is key to growing Mobile's economy and lifting citizens' income. The math makes complete sense when you consider more than 95 percent of the world's population lives outside the United States.
In the early years, international business was primarily a strategy of big multinational corporations, which were easily able to export and/or import products and commodities. Today, the international market is open to small and medium companies as well. Information is more accessible than ever and, through the internet and social media, it's now possible for companies of all sizes to market to people throughout the world.
Our community has been quite successful at recruiting foreign direct investment – companies like Austal, Airbus, AM/NS Calvert, Evonik and many others. In fact, it has been a primary objective of the Chamber's economic development strategy for more than 20 years. One of our bragging points is the fact that eight of our top 10 manufacturing employers are foreign-based, with headquarters all over the world.
The result of this international investment in our region has been jobs and "new" foreign money pumped into our local economy. People have been hired locally to fill thousands of new positions, and these companies also utilize local materials and services, creating new business opportunities for our local, home-grown businesses.
Finally, let's not forget that learning is an indirect advantage of international trade and foreign direct investment. They introduce our local businesses, local governments, universities and citizens to new business practices and new technologies – a win/win for all concerned.
We salute international business, trade and all our foreign-based companies that call Mobile home. Yes, they make us proud indeed.
CLICK HERE TO READ THE BUSINESS VIEW – JULY 2020
Additional information is on the Mobile Area Chamber of Commerce's website at mobilechamber.com, on Facebook at @MobileChamber and Twitter at @MobileChamber.
About the Mobile Chamber
The Mobile Chamber is a private business organization with more than 1,700 members and the economic developer for the City of Mobile and Mobile County. The Mobile Chamber's focus is to provide members with networking, marketing and professional development opportunities, expand jobs in the area, develop the local workforce, advocate legislative priorities and offer resources to help small businesses grow. Additional information is on the Chamber's website, Facebook, Instagram, LinkedIn, Twitter and YouTube.