GET COUNTED – CENSUS 2020
Business View – April 2020 / Business News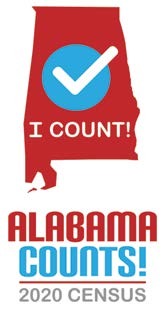 This year Alabama residents have an opportunity to affect our state's future for the next 10 years and beyond. How? By taking less than 10 minutes to complete a 2020 Census form.
Data collected during the census is used in a variety of ways that affect decisions regarding community services provided to residents and the distribution of more than $675 billion in federal funds to local, state and tribal governments each year.
This funding supports local programs for schools, health care, community assistance, infrastructure and other important needs. The census also determines the number of representatives each state will have in Congress. The census counts every person – both adults and children – living in the U.S. Beginning last month, Alabama households received a postcard from the U.S. Census Bureau with instructions for how to complete it. You may respond in three ways: online, telephone or traditional paper form.
Here are just a couple reasons to get counted:
CONGRESSIONAL REPRESENTATION
The population count taken in the 2020 Census will determine the allocation of the 435 seats in the U.S. House of Representatives. States with the most population gains are projected to gain additional seats while states with population losses or slow growth are at risk of losing seats.
A projected slowed population growth in Alabama has put the state in danger of losing one of our seven congressional seats after the 2020 Census. The loss would mean one less critical voice advocating for Alabama on the national stage.
ECONOMIC DEVELOPMENT
Data collected by the Census Bureau is considered by the Mobile Area Chamber's economic development team as valuable, unbiased data collected by a neutral third party. An improvement in a community's Census data could mean additional retail and restaurant growth as well as more consideration from companies wishing to expand or relocate, creating job opportunities.
To learn more about the census or to download materials to help your employees understand why they need to be counted, go to www.alabama2020census.com.
CLICK HERE TO READ THE BUSINESS VIEW – APRIL 2020
Additional information is on the Mobile Area Chamber of Commerce's website at mobilechamber.com, on Facebook at @MobileChamber and Twitter at @MobileChamber.
About the Mobile Chamber
The Mobile Chamber is a private business organization with more than 1,700 members and the economic developer for the City of Mobile and Mobile County. The Mobile Chamber's focus is to provide members with networking, marketing and professional development opportunities, expand jobs in the area, develop the local workforce, advocate legislative priorities and offer resources to help small businesses grow. Additional information is on the Chamber's website, Facebook, Instagram, LinkedIn, Twitter and YouTube.