Mobile, the Moon and Mars: Learn how you can do business with NASA
The Business View – October 2019 / News You Can Use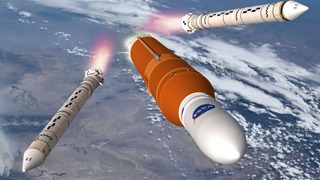 With an estimated $21.5 billion to spend on contracts in 2020, NASA is returning to Mobile this month to help local companies do business with them.
The Mobile Area Chamber will host a forum on Wednesday, Oct. 30 from 8 a.m. to 3 p.m. at the Renaissance Mobile Riverview Plaza Hotel. The event will include panel presentations and networking sessions with various NASA specialists, their prime contractors and other business opportunities.
In addition to the presentations and networking there will be breakout sessions addressing the NASA Mentor/Protégé program and the Small Business Innovation Research (SBIR) and Small Business Technology Transfer (STTR) programs.
The federal agency, with nearby operations in New Orleans, along the Mississippi Gulf Coast and Huntsville, announced new opportunities for small businesses to increase the competitive base of contractors that pioneer the future of space exploration, scientific discovery, and aeronautics research, including research and development, manufacturing, supply, equipment, construction and engineering.
According to Danette Richards, director of small business development with the Chamber, "The new programs are going to increase and expand their acquisition needs and this is the perfect time for companies to take this opportunity to meet, form and strengthen relationships."
In addition to the continuing Space Launch System (SLS) acquisition needs, she says the forum will provide an opportunity for small businesses to learn about NASA's future plans for space that include new programs such as a habituation module to establish human presence on the moon and serve as a "rest stop" for human expeditions to Mars.
Advance registration is required, and the cost is $50 per person (includes lunch). Click here to RSVP.
Click here to read The Business View – October 2019
Additional information is on the Mobile Area Chamber of Commerce's website at www.mobilechamber.com, on Facebook at @MobileChamber and Twitter at @MobileChamber.
About the Mobile Chamber
The Mobile Chamber is a private business organization with more than 1,700 members and the economic developer for the City of Mobile and Mobile County. The Mobile Chamber's focus is to provide members with networking, marketing and professional development opportunities, expand jobs in the area, develop the local workforce, advocate legislative priorities and offer resources to help small businesses grow. Additional information is on the Chamber's website, Facebook, Instagram, LinkedIn, Twitter and YouTube.